Video: /Film Visits Winterfell And Other 'Game Of Thrones' Locations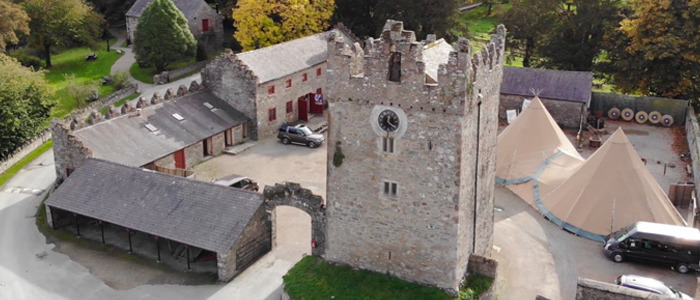 Less than an hour from Belfast, you can travel to another world.
Northern Ireland has been the home base of HBO's Game of Thrones since its earliest days – even since the original pilot the network didn't pick up. The mega-hit fantasy drama has already wrapped the majority of its production for the upcoming eighth and final season, but fans can still step into the fantasy world of Westeros by visiting Castle Ward, a sprawling property that doubled as Winterfell in the first season of the show.
/Film traveled to Castle Ward in early October, and I've cut together a video that features some highlights from the experience, including touring multiple Game of Thrones locations on the expansive grounds, practicing archery in the Winterfell archery range, meeting the direwolves, and more.
Game of Thrones Filming Locations
As is the case with most big productions, the interior scenes for Game of Thrones were filmed in sound stages. But even during the first season with budgets far smaller than what they'd eventually have at their disposal, showrunners David Benioff and D.B. Weiss utilized some spectacular practical locations to serve as the sweeping, dramatic landscapes needed for the volatile and beautiful land of Westeros. My wife Amy and I visited a handful of Game of Thrones locations during a recent trip to Iceland, Ireland, and Northern Ireland, but Castle Ward had the largest and most impressive concentration of filming spots. Not only did the central tower serve as the exterior for Winterfell's highest point, but there are about twenty different locations on the same property that played host to scenes like Tyrion slapping Joffrey in the face; the secret wedding of Robb Stark and Talisa; the exterior for The Twins, the site of the brutal Red Wedding; and a number of battles, speeches, and fight sequences that are supposed to take place miles away from Winterfell's walls.
Visitors to Castle Ward can rent bicycles and ride along a wooded path that takes them to the various shooting locations. Riders are loaned iPads full of footage from the show that coincides with each location, so visitors can watch scenes play out as they stand on the exact ground where they were filmed. For a separate fee, you can meet and pet the dogs who portrayed direwolves Summer and Grey Wind in season 1 (real names: Odin and Thor), and learn some behind-the-scenes stories from their owner, who has appeared in the show himself. (If you're looking for a little extra joy in your life, they're on Instagram.)
View this post on Instagram
We've visited a handful of #GameofThrones locations on this trip, but today we kicked it to a new level. Took a tour of Winterfell, got decked out in GOT attire (Amy even got to wear part of Bran's actual costume), and practiced archery in the same spot they filmed during S1. So awesome. Plus, we met Summer & Grey Wind, two of the @got_direwolves used on the show. (Real names: Odin and Thor.) There's so much else that won't fit in a caption. More to come. #northernireland #got #winterfell #travel #westeros #archery #ironthrone #vacation #castleward #wheregotstarted
A post shared by Ben Pearson (@benpears) on
One of the big highlights of our experience was practicing archery in the archery range, the same place where Bran and Arya fired arrows in the very first episode of the series. Winterfell's "master-at-arms" – an extremely knowledgable tour guide named William, who's also the property manager of Castle Ward – decked us out in full authentic costumes, and when we were finished, I practically looked like a member of the Night's Watch. He even offered Amy the chance to wear one of Bran's real screen-used vests from the show (she obviously said yes). With plastic versions of swords Longclaw and Oathkeeper at our sides, we walked over to the archery range, got a quick lesson, and were let loose, firing arrows as if we were protecting the realm from an army of encroaching wights. (Amy got a bullseye, and William took great pleasure in orchestrating a scenario in which she slayed me with her sword afterward for my poor performance.)
As you can see in the video, there are plenty of amazing photo opportunities at Castle Ward; you can pose with the direwolves, snag a pic while wielding your bow and arrow or fake swords, recreate famous moments at the filming locations, and more. And since this is Game of Thrones we're talking about, the experience wouldn't be complete without sitting on Castle Ward's own recreation of the Iron Throne.
The facilities can also be rented out for corporate events, where employees are given costumes and can chow down on a medieval banquet big enough for Robert Baratheon to appreciate. For more information, including the various pricing tiers, head over to their official website.
In September, HBO and the Northern Ireland Tourist Board announced Game of Thrones Legacy, a tourist experience opening sometime in 2019 in which fans will be able to walk around in the sets for Winterfell, Castle Black, King's Landing, and more. Since Castle Ward was used for Winterfell's exterior in the first season, I asked the folks there how this new tourist experience might affect them, but I was told that plans are still being finalized so they aren't sure yet. Until we have more details about Game of Thrones Legacy, I can't think of a more immersive way to step into the world of Westeros than to visit Castle Ward in person.