'The Christmas Chronicles' Trailer: Take Another Look At Kurt Russell's Hot Santa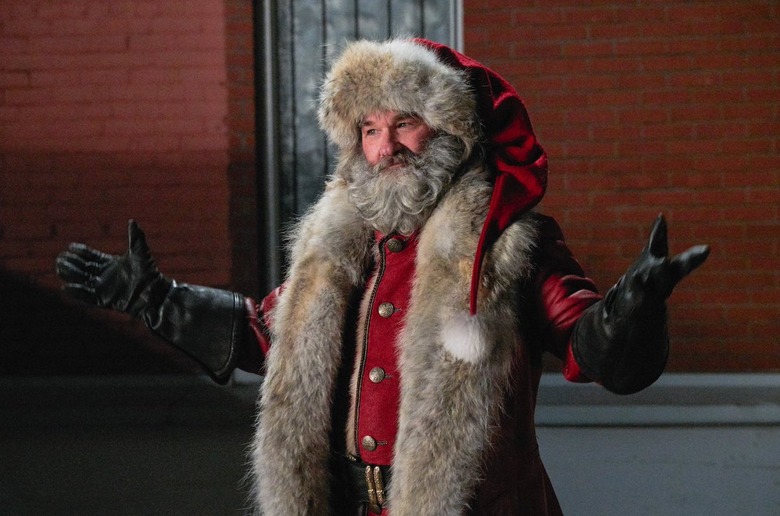 Halloween has passed and we're officially into November, which means only one thing: it's Christmas time, friends. Break out the ugly holiday sweaters and get ready for a jaunt with Kurt Russell as hot Santa Claus, because Netflix is already tapping into the Christmas season frenzy by releasing another The Christmas Chronicles trailer.
The Christmas Chronicles Trailer
I just have a few questions: Is this technically a chronicle? Why is it called The Christmas Chronicles when this adventure supposedly takes place in one night? Are we just slapping the word "chronicle" onto everything just to make it sound more epic, or because it happened to be alliterative with "Christmas"? All these things probably raced through your mind while watching The Christmas Chronicles trailer, which features a painfully typical Christmas story about two kids teaming up with Santa Claus to save Christmas after his sleigh breaks. Or maybe you simply thought, boy that Santa sure is hot.
And no surprise why: he's played by none other than Kurt Russell, the dreamboat of the '80s who now sports a magnificent beard and a big red suit. No, that suit doesn't make your butt look big, Kurt Russell, because you still look like Kurt Russell. Russell turns on the charm as the rugged version of Santa Claus who does things like slam dunk chimneys and drive a sleigh like a daredevil. But despite Russell's simmering sex appeal, The Christmas Chronicles is still very much a family flick from producer Chris Columbus, who brings with him that same non-stop, action-packed adventure he brought Home Alone and the first Harry Potter film. Angry Birds director Clay Kaytis helms The Christmas Chronicles, which also stars Darby Camp and Judah Lewis as the two main kids.
Here is the official synopsis for The Christmas Chronicles:
The Christmas Chronicles, a holiday adventure from producer Chris Columbus ("Home Alone", "Harry Potter") and director Clay Kaytis ("The Angry Birds Movie"), tells the story of sister and brother, Kate (Darby Camp) and Teddy Pierce (Judah Lewis), whose Christmas Eve plan to catch Santa Claus (Kurt Russell) on camera turns into an unexpected journey that most kids could only dream about. After staking out Santa's arrival, they sneak into his sleigh, cause it to crash and nearly derail Christmas. As their wild night unfolds, Kate and Teddy work together with Santa – as you've never seen him before – and his loyal Elves to save Christmas before it's too late.
The Christmas Chronicles arrives on Netflix on November 22, 2018.