'The Nutcracker And The Four Realms' Review: An Uneven But Delightfully Oddball Fairy Tale Adventure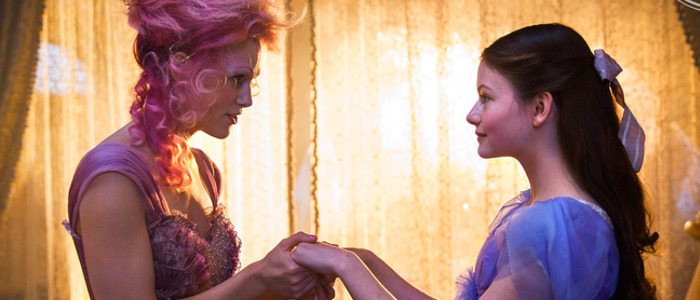 Whatever algorithm it is through which modern Disney movies are made (young women whose smarts are demonstrated by a penchant for tinkering, a missing parent, dubious authority figures, a cast peppered with recognizable stars), it's hit a high point with The Nutcracker and the Four Realms. Though the film occasionally descends into the same CGI soup that made the recent Beauty and the Beast so baffling, it manages to keep a firmer grip on reality — which means that its flights into fancy are that much more of a delight.
Directed by Lasse Hallström and Joe Johnston, the film's offerings aren't so much to do with its plot as with visual spectacle and character turns. It's lush and colorful in a way that's refreshing when so much of popular media trends towards blandness or darkness — and, of course, in a way that befits its status as a holiday-themed story. At times, it becomes so colorful that it's tempting to compare the film to anime rather than any of the other films in the Disney stable, especially as the adventures veer into somewhat demented territory and star Mackenzie Foy's eyes seem to grow larger by the minute.
As Clara Stahlbaum, she's charged with bringing order back to the magical Four Realms, which she stumbles across after following clues left by her late mother and her godfather Drosselmeyer (Morgan Freeman). To aid her is, of course, Nutcracker soldier Philip (Jayden Fowora-Knight), as the Sugar Plum Fairy (Keira Knightley), Shiver (Richard E. Grant), and Hawthorne (Eugenio Derbez) attempt to maintain peace while Mother Ginger (Helen Mirren) wreaks havoc.
Though Clara is an appealing heroine — she is the first female protagonist in such a movie who's really been allowed to demonstrate a measure of aggression and selfishness without being judged or reproached for doing so — the show ultimately belongs to Knightley. The four regents all look outrageous (which I mean in the best way possible) but Knightley as the Sugar Plum Fairy takes the cake. Armed with what 30 Rock referred to as a "sexy baby voice" and a mountain of pink candy floss hair, she turns in the kind of performance that is essentially her Colin Farrell in The Lobster, her Jude Law in Dom Hemingway, her Brad Pitt in Burn After Reading. It's like nothing we've ever seen her do before — it's camp to the degree that it's irresistible — and seems to signal that she's about to buck every preconceived notion as to her niche and enter into an era of wildcard character actor roles.
Her performance has the effect, however, of making the rest of the film pale by comparison, as none of the rest of it (Grant and Derbez are sadly wasted, possibly a result of the film changing directorial hands) holds a candle to just how hard she leans into the material. Granted, that has a little to do with the fact that the rest of said material is fairly cookie-cutter in relation to how hard the film's creative team has worked to make the settings pop. The balance shows, sometimes — the film coheres best when what's being showcased merits that kind of lavish visual attention.
For instance, there's an inevitable nod to The Nutcracker's ballet iteration (as filtered through a Fantasia lens that mostly serves to remind us of that superior movie), and Misty Copeland's accompanying performance is perhaps the most stunning part of the film. There's little that can compare to Tchaikovsky's original work, which we as an audience are reminded of each time the score lifts passage from the composer's work to underscore the action.
That said, the film at least has its cast in its favor. I mean Knightley and Foy, but everyone else as well, particularly the charming Fowora-Knight. Besides A Wrinkle in Time, this is the first significant Disney film to seem to feature color-blind casting, and it's a gambit that mostly pays off. Though Fowora-Knight is the only major character played by a person of color (Drosselmeyer is a tertiary character at best, and Derbez has even less to do), the overall world is still populated with people of color in a way that doesn't stick out — it feels normal.
There's plenty to groan about in The Nutcracker and the Four Realms as far as life lessons go, but there's such a manic energy and undercurrent of unapologetic weirdness to the proceedings that it's a delight nevertheless. Its idiosyncrasies are its selling points — including a Mouse King straight out of the nightmares of most, if not all, New Yorkers, or anyone who's ever dealt with mice at home — and it's an edge that's welcome in a landscape where fairytales and children's movies are generally dreadfully anodyne.
/Film Rating: 6 out of 10