'Top Gun 2' Brings Christopher McQuarrie Into The Danger Zone For Script Rewrites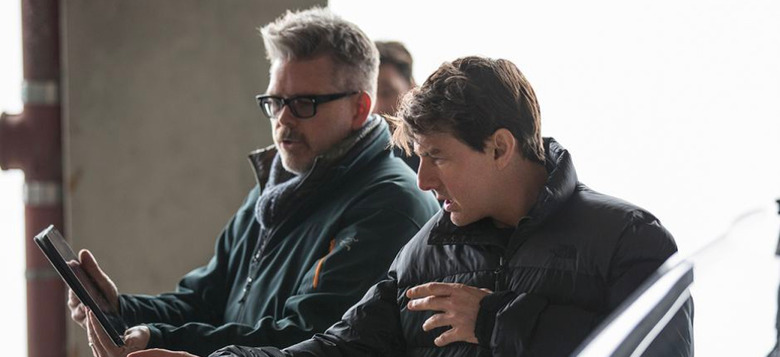 Fresh off the massive critical and commercial success of Mission: Impossible – Fallout, Christopher McQuarrie is feeling the need to reunite with his star and longtime collaborator Tom Cruise once again. The filmmaker has been tapped to rewrite the Top Gun 2 script, which will make it McQuarrie and Cruise's tenth film together.
Cruise revealed in an interview alongside McQuarrie for the upcoming issue of Empire that the two are working together on Top Gun: Maverick. Sources confirmed to the outlet that McQuarrie is reworking portions of the script, as most of the screenplay, penned by Peter Craig (12 Strong), Justin Marks (Counterpoint), and Eric Warren Singer (American Hustle), has already been completed.
This will make it McQuarrie and Cruise's tenth collaboration together, after McQuarrie recently directed Cruise in Fallout. Since the duo first worked together on Valykrie, McQuarrie became Cruise's go-to screenwriter for films like The Tourist (from which Cruise later dropped out) and when Cruise needed rewrites in a pinch for Edge of Tomorrow and The Mummy. McQuarrie would graduate to directing Cruise in Jack Reacher and Mission Impossible – Rogue Nation as well as, of course, Fallout.
McQuarrie's enlistment to rewrite the script doesn't bode ill for the film — after all, this same scenario happened with Edge of Tomorrow, which became a modern sci-fi masterpiece. Even with all of the writers attached, McQuarrie and Cruise together have proven to be an impressive team.
Joseph Kosinski, who previously directed Cruise in Oblivion, helms the long-gestating Top Gun sequel. The plot for Top Gun: Maverick remains under wraps, but it will likely focus on a new generation of pilots headed by Miles Teller's Goose Jr. (not his actual name), the son of Goose, Maverick's (Cruise) best friend who died tragically in an ejection accident.
Other fresh-faced stars joining the new generation of pilots include Glen Powell (Everybody Wants Some), Thomasin McKenzie (Jojo Rabbit), Charles Parnell (A Million Little Pieces), Jay Ellis (Insecure), Bashir Salahuddin (GLOW), Danny Ramirez (Assassination Nation), and Monica Barbaro (The Good Cop).
Meanwhile, Jon Hamm, Ed Harris, and Jennifer Connolly round out the cast, while Val Kilmer reprises his role as Iceman.
Top Gun: Maverick opens June 26, 2020.