Bong Joon-Ho's 'Parasite' Picked Up By NEON For North American Release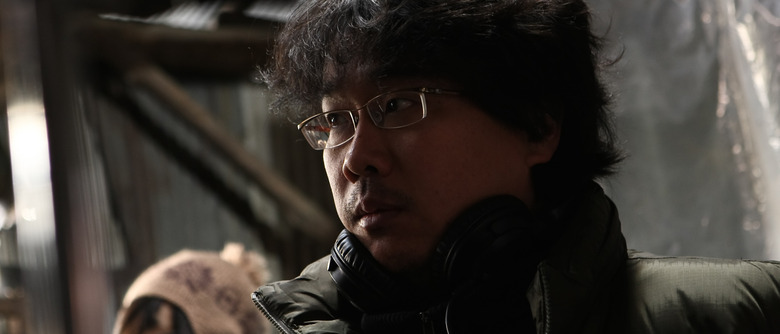 Korean filmmaker Bong Joon-ho burst onto the scene with 2003's Memories of Murder, and has grown into one of the most successful international directors working right now. His most recent movie, 2017's environmental action comedy Okja, was bought by Netflix, where most audiences outside of film festivals streamed it. But now there's some good news for those who love the good old fashioned theatrical experience: distribution rights to Bong's newest film, Parasite, have been purchased by NEON, so fans will be able to see the film on the big screen. 
While the South Korea-born Bong Joon-ho has made the majority of his movies in his native language, including films like Mother and his 2006 international hit The Host, his two most recent projects, Snowpiercer and Okja, have been in English. Parasite will mark Bong's return to Korean language filmmaking, and it will reunite him with his frequent lead actor Song Kang-ho, who has appeared in Snowpiercer, The Host, and Memories of Murder. Here's the official synopsis:
Penned by Bong, Parasite is a peculiar tale about two families who are worlds apart yet somewhat alike, portraying a striking reality of the world we live in. The film, which just wrapped production, also stars Lee Sun-Kyun (A Hard Day, Our Sunhi), Cho Yeo-Jeong (Obsessed), Choi Woo-Shik (Okja, Train to Busan), Park So-Dam (The Priests), and Chang Hyae-Jin (Poetry).
A "peculiar tale" and a family drama sounds right up Bong's alley – even The Host, his monster movie, had the exploration of a family dynamic at its core.
According to a new press release, NEON will distribute Parasite in North America. NEON is a relatively new distribution company co-founded by the Alamo Drafthouse's Tim League. Since launching in 2017, the company has distributed small-to-mid-budget movies like Colossal, The Bad Batch, Ingrid Goes West, and I, Tonya. NEON was co-founded by Tom Quinn, who used to run The Weinstein Company's distribution label Radius – the company that released Snowpiercer in theaters. In fact, Quinn has worked with Bong five times thus far, so this feels like the proper home for the director's newest movie.
NEON is planning to give Parasite a theatrical release sometime in 2019, and considering the clout behind Bong Joon-ho's name, I suspect the movie will debut at at least one film festival before it hits theaters.