The Team-Up You've Been Waiting For: 'Grand Isle' Will Star Nicolas Cage And Kelsey Grammer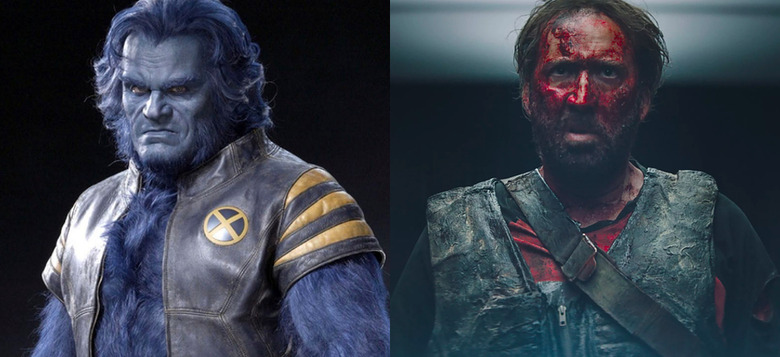 The entire history of cinema has been leading to this moment. At last, Dr. Frasier Crane and Nic Cage will share the screen together. That's right – Nicolas Cage and Kelsey Grammer will star together in a film called Grand Isle. The plot sounds appropriately bonkers, involving a quiet island, a broken fence, unspeakable discoveries and more.
According to THR, cinematic titans Cage and Grammer will appear side-by-side in the film from Stephen S. Campanelli, a camera operator on many of Clint Eastwood's films, and also Bradley Cooper's A Star Is Born. The film also features KaDee Strickland (The Grudge) and Luke Benward (Dear John). In Grand Isle, Cage plays "a trigger-happy ex-Marine living on a quiet island in Louisiana with his seductive wife (Strickland). Forced to hire a cash-strapped handyman (Benward) to fix a fence destroyed while he was gunning down a home intruder, he finds his life taking a strange turn, and after a night filled with "greed, sex, violence and unspeakable discoveries," a detective (Grammer) is brought in to lead a police investigation."
That sounds incredible. I especially like that the inciting incident is that Nic Cage wrecks his own fence while shooting someone. It's worth noting that IMDb has a very different sounding synopsis for the film:
A young father is charged for murder and must prove his innocence through recalling a very twisted and dark night of events.
At this point, I will see anything with Nicolas Cage in it – and I don't say that in an ironic, jokey way. I find his performances genuinely fascinating to watch, and I'm always excited when he signs on to a project. Some of the films end up being bad, but he's always worth watching. The Grand Isle description sounds like it could go either way – maybe it'll be good, or maybe it will be a complete misfire. Either way, I'm watching it. Grammer is a top-shelf actor as well, and it'll be fun to watch his very dramatic style mix with Cage's gonzo type of acting.
Cage was recently seen in the fantastic, mind-blowing Mandy, and will next appear in Between Worlds. Grammer was seen earlier this year in the Netflix movie Like Father. There's no release date yet, nor is there any word if this will be a wide theatrical release, or one of Cage's limited theatrical/VOD release combos. I'm guessing the latter, but you never know.