How 'Birds Of Prey' Director Cathy Yan Got The Job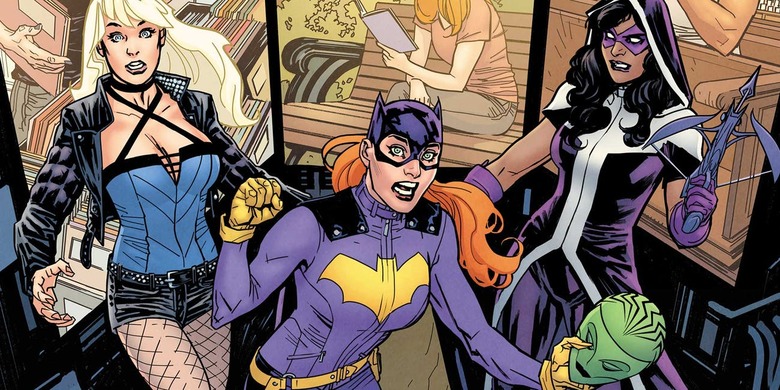 A lot of eyes are trained on Birds of Prey, Warner Bros.' first all-female superhero team in its DC Extended Universe, anchored by fan-favorite villain Harley Quinn (Margot Robbie). So how did the relatively unknown filmmaker Cathy Yan land the job, beating out several other directors in the process? "I did my homework," the Dead Pigs director explained while talking about her pitch process. That, and she used am unexpected pitch method that included an unusual sizzle reel that wowed the Warner Bros. boardroom.
As soon as Yan read the Birds of Prey script by Christina Hodson, who is also writing the Batgirl movie, she knew she had to direct this movie. So she researched up and prepared a unique pitch that could put her above the other directors jostling for the job, Yan revealed at a U.S. China entertainment summit (via Deadline).
"I wouldn't say it was easy, but it was relatively painless and straightforward. I immediately loved the script and it felt like something I could really do, and it felt very much like my own voice," said Yan. It was an unusual process for Yan, who had never had to assemble a sizzle reel or pitch a movie to a group of executives before. But apparently, first time's the charm:
"It came out of me. I have never done any of these things and I asked my agents for examples to get a better sense: I put together a pitch deck and also assembled a sizzle reel. But I would say it wasn't like a lot of other sizzle reels which reference other films that remotely feel like your film. I find those to be rather pointless. But I created my own version that thematically and tonally conveyed what you would feel [in my movie]."
Yan also confirmed that Birds of Prey will be rated R, a promise that star Margot Robbie made in an interview last year. Hodson's script about a team of female vigilantes won't shy away from the violence and vulgarity, but Yan said that there's a fair share of humor too, which is what drew her to the film:
"I could not put the script down, it had so much dark humor to it, which a lot of my work does, and there are themes of female empowerment which are so strong and relatable. So I went in [to the pitch meeting] with, not with confidence, but at least a sense that I belonged in the room, that somehow magically in terms of timing and luck that this opportunity was open to me and I was definitely going to make the best of it."
Birds of Prey is set to star Robbie's Harley Quinn, as well as the recently announced Huntress (Mary Elizabeth Winstead), Black Canary (Jurnee Smollett-Bell), Renee Montoya (Rosie Perez), and Cassandra Cain (not yet cast).Birds of Prey is scheduled for theatrical release on February 7, 2020.