'Isn't It Romantic' Trailer: Rebel Wilson Meet-Cutes With Liam Hemsworth In Meta-Comedy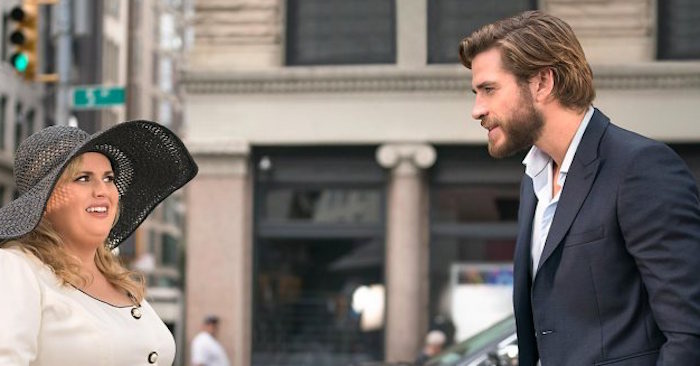 The rom-com is back in full force! Kind of. The long-slumbering genre is still just getting back on its feet thanks to a few runaway hits in theaters and Netflix, but already Hollywood is ready to make fun of it. Rebel Wilson and Liam Hemsworth star in Isn't It Romantic, the meta-comedy directed by Todd Strauss Schulson, the guy behind 2015's surprising horror takedown Final Girls. See the Isn't It Romantic trailer below.
Isn't It Romantic Trailer
Check out the trailer for @RebelWilson's new movie, #IsntItRomantic. Oh hey there, @LiamHemsworth. pic.twitter.com/8ec3u1eIxG

— Ellen DeGeneres (@TheEllenShow) October 31, 2018
We couldn't have a good old rom-com Renaissance without a satire or two along the way. Because nothing's funnier than Liam Hemsworth falling for Rebel Wilson? I guess? Isn't It Romantic stars Wilson as a cynical New York City architect who, after getting knocked out by a mugger, wakes up to find that she is living in a romantic-comedy — and worse, that she is the leading lady. Having become self-aware, she tries her best to avoid the tropes of the genre, which includes the hunky love interest played by Hemsworth.
Wilson reunites with her Workaholics and Pitch Perfect co-star, Adam Devine, who becomes 1/3 of the love triangle between Wilson and Hemsworth. Priyanka Chopra also stars as a "yoga ambassador," and Betty Gilpin rounds out the cast.
I am reluctant to see this film because, as I said before, the rom-com is still just getting onto its still shaky legs and I want to see some genuine romance rather than a self-deprecating satire. But Schulson did deliver us the remarkably good Final Girls in 2015, which gave us both a self-aware send-up of horror and an affectionate homage to the genre. Perhaps he could do the same with Isn't It Romantic.
Here is the official synopsis for Isn't It Romantic:
New York City architect Natalie works hard to get noticed at her job, but is more likely to be asked to deliver coffee and bagels than to design the city's next skyscraper. And if things weren't bad enough, Natalie, a lifelong cynic when it comes to love, has an encounter with a mugger that renders her unconscious, waking to discover that her life has suddenly become her worst nightmare, a romantic comedy and she is the leading lady.
Isn't It Romantic opens in theaters on Valentine's Day, February 14, 2018.