Netflix Stops Horsin' Around, Orders 'BoJack Horseman' Season 6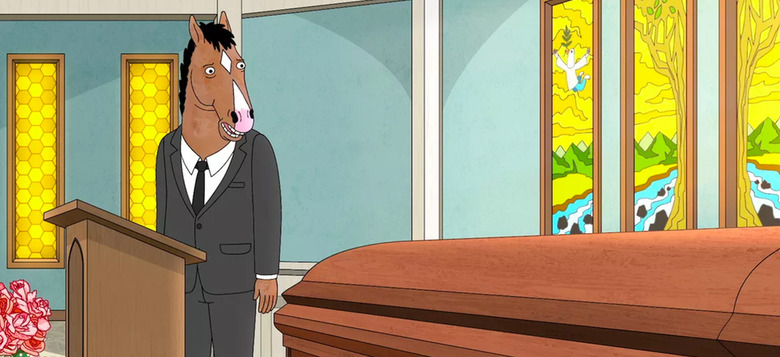 BoJack Horseman will return for another season of smart humor and existential dread, so at least we have that to look forward to. The acclaimed animated series, with deftly blends comedy and misery, has just been granted a sixth season from Netflix. Season 5 dropped on Netflix last month, where it was met with overwhelmingly positive reviews. More on BoJack Horseman season 6 below.
THR broke the news that BoJack Horseman season 6 is a go at Netflix. Several prominent Netflix shows have faced cancellations in the last few days – Iron Fist, Luke Cage and American Vandal. BoJack Horseman has managed to stay strong, however, thanks to glowing reviews and a fervent fanbase. Created by Raphael Bob-Waksberg, BoJack Horseman follows washed-up actor and anthropomorphic horse BoJack Horseman as he navigates his way through one personal disaster to the next.
At first glance, BoJack Horseman may look like a silly, colorful cartoon. But through smart writing, the show has managed to have one of the most accurate depictions of mental illness – particularly depression – on television right now. The show knows just how to get to the root of the wonderful world of self-loathing, and presents it in a realistic way. Or, as realistic as a show about talking animal-people can be.
It will be interesting to see where BoJack goes in its sixth season. Season five concluded with the character making a very big decision – one that could potentially change the series completely. "In theory, I'm always happy to do more, and I really enjoy having done it, but I don't know how to do it. We're now five seasons in, and if you said, 'How do you make a television show?' I couldn't describe it," Bob-Waksberg said, adding: "I always think this is the season that's really going to let people down, and I'm always astonished and terrified that people still like it. I go, 'Okay, next season, now the pressure is even higher.' So, I don't know if I would say this is a particularly hard show to think about moving forward because this show has always felt impossible to me."
Will Arnett voices BoJack, the failed legendary 90's sitcom star from the favorite family sitcom Horsin' Around, who has been trying to find his way through a muddle of self-loathing, whisky and failed relationships. Now, in the presence of his human sidekick Todd (Aaron Paul) and his feline agent and ex-paramour Princess Carolyn (Amy Sedaris), BoJack is primed for his comeback...