FX's 'Mrs. America' Will Bring Cate Blanchett To TV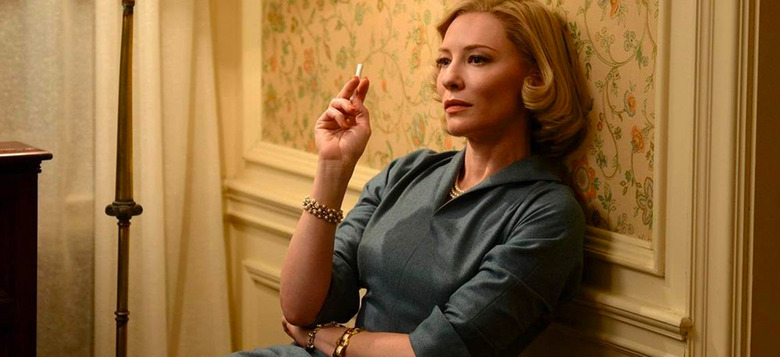 Cate Blanchett is coming to American TV for the first time ever. The acclaimed actress will star in the FX limited series Mrs. America, about the true story to ratify the Equal Rights Amendment. Blanchett will play 1970s constitutional lawyer and conservative political activist Phyllis Schlafly in the series, which is set to begin production in 2019.
There was a time when respected film actors cringed at the idea of appearing on television. The TV landscape was considered a wasteland where washed-up movie stars went to die. But times have changed considerably, and television has evolved into a particularly rewarding, artistic platform. More and more, big names are flocking to TV and embracing what it has to offer to their career. Cate Blanchett is the latest actress to accept television's call. The Oscar-winning actress, known for her fantastic work in Carol, Elizabeth, the Lord of the Rings films, and many, many more movies, has joined the cast of limited FX series Mrs. America.
Per Deadline, the series "tells the true story of the movement to ratify the Equal Rights Amendment, and the unexpected backlash led by a conservative woman named Phyllis Schlafly, played by Blanchett. Through the eyes of the women of that era — both Schlafly and second-wave feminists Gloria Steinem, Betty Friedan, Shirley Chisholm, Bella Abzug and Jill Ruckelshaus — the series explores how one of the toughest battlegrounds in the culture wars of the '70s helped give rise to the Moral Majority and forever shifted our political landscape."
Blanchett will play Schlafly, who died in 2016. Mrs. America comes from writer Davhi Waller (Mad Men) and producer Stacey Sher (Django Unchained, Erin Brockovich). Waller will serve as showrunner.
"I feel privileged to have this opportunity to collaborate with Dahvi, Stacey and Coco under the robust and fearless FX umbrella," Blanchett said. "I am extremely excited about delving into the material as there couldn't be a more appropriate time to peel back the layers of this recent period of history, which couldn't be more relevant today."
"We are extremely fortunate to be making this series with the fearless John Landgraf and the incredible team at FX, who never flinch in the face of provocative subject matter," added Sher. "This country has literally been discussing women's rights for over 100 years and this story is as timely and relevant to the times we live in as it was during the tumultuous and passionate period in which it took place."
Cate Blanchett is one of the best actresses working today. I'll go so far as to say I've never seen her give a bad performance, even if the film she happens to be appearing in isn't up to snuff. In short, I'll watch anything with her in it, and I'm excited to check this out whenever it arrives.