Watch: The Original Cast Of 'Sabrina The Teenage Witch' Reacts To Netflix's 'Chilling Adventures Of Sabrina'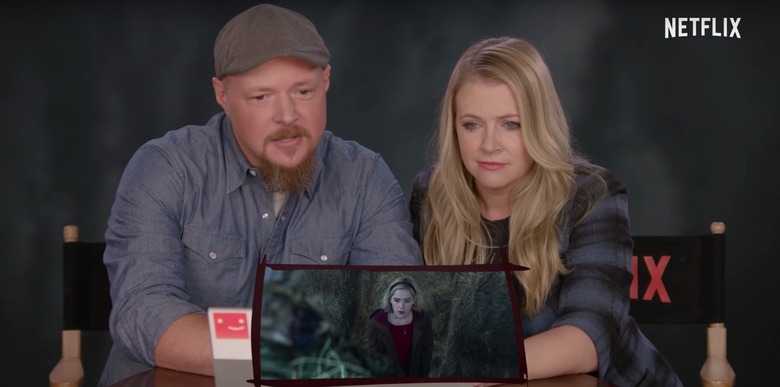 Sabrina, meet Sabrina. Sabrina the Teenage Witch may not have a lot in common with Netflix's new dark take on the Archie Comics character, but that doesn't mean that the cast of the '90s sitcom isn't down to get a little Satanic. Following the release of Chilling Adventures of Sabrina on the streaming platform, Netflix has given us a delightful little featurette showing the Sabrina the Teenage Witch cast reacting to an episode of Chilling Adventures of Sabrina.
Sabrina the Teenage Witch Cast Reacts to Chilling Adventures of Sabrina
It's a Sabrina The Teenage Witch reunion! Kind of. Melissa Joan Hart (Sabrina), Nate Richert (Harvey), Caroline Rhea (Aunt Hilda), and Beth Broderick (Aunt Zelda) all gathered for a Netflix featurette that had them reacting to the new generation of Spellmans and teenage witches. Appropriately, they all got the chills.
"It's terrifying, this show," Rhea exclaims, peeking out from behind her fingers. "It's really scary. I don't think I can watch it alone," adds Broderick. As Sabrina's former aunts, they were of course a little scandalized during a scene that shows Kiernan Shipka's Sabrina getting hot and heavy with Harvey (Ross Lynch). "This is not our Sabrina!" Rhea joked, while Broderick, channeling Aunt Zelda, said, "We would never have allowed Sabrina to behave that way." But Rhea was a fan of the new Sabrina's feminist bent, adding, "I like her though. She's really political, little Sabrina. She's quite empowered."
As for Sabrina herself? Joan Hart seems on board, though she said, "I am not letting my kids watch this. Though they'll probably like it better."
Chilling Adventures of Sabrina is streaming on Netflix now.
As her 16th birthday nears, Sabrina must choose between the witch world of her family and the human world of her friends; based on the "Archie" comic.