Ava Duvernay To Make A Prince Documentary For Netflix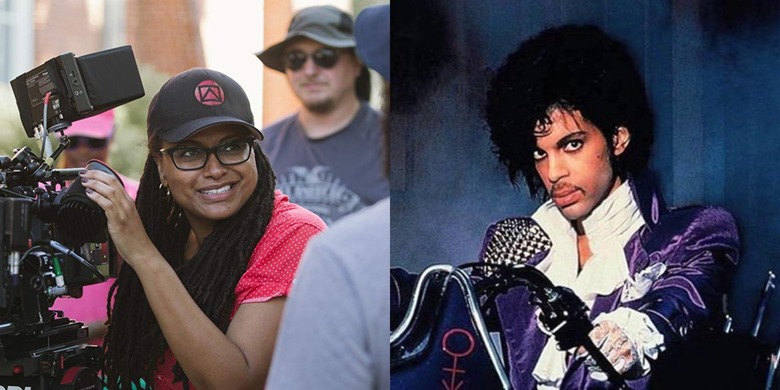 After the critical and awards circuit success of her searing documentary 13th, Ava Duvernay is re-teaming with Netflix to produce a documentary about the legendary, recently passed musician, Prince.
Duvernay continues to prove herself a jack-of-all-trades, returning to the documentary field to develop a Prince documentary, Variety reports. The multiple-part documentary will cover the late artist's entire life, up to his death in 2016.
The project will be in collaboration with Netflix and Prince's estate, the latter of which is providing Duvernay with interviews, archival footage, photos, and archive access. In a statement to Deadline, which broke the news on Monday night, Duvernay said:
"Prince was a genius and a joy and a jolt to the senses. He was like no other. He shattered every preconceived notion, smashed every boundary, shared everything in his heart through his music. The only way I know how to make this film is with love. And with great care. I'm honored to do so and grateful for the opportunity entrusted to me by the estate."
The Oscar-nominated filmmaker has been working on the project for several months, according to Variety. There's no information on when the untitled documentary will be released on Netflix, though it will likely follow Duvernay's current Netflix film, Central Park Five, a four-part drama about the five Harlem teens who were incorrectly convicted for the 1989 rape of a jogger in the NYC park, set to premiere on Netflix in 2019. Duvernay has found a happy partnership with the streaming service, having earned an Oscar nomination for Best Documentary Feature for 2016's mass incarceration exposé, 13th.
A Prince documentary could possibly be one of the more light-hearted projects for the filmmaker, who rose to prominence with Selma. That is, apart from the divisive family film, A Wrinkle in Time, which was sadly a messy disappointment to many fans of the book and Duvernay, myself included. However, her producing and behind-the-scenes work at least continues to be stellar. There's no word yet on whether Duvernay will direct the Prince documentary for Netflix.