Small-Screen Stream: 'The Chilling Adventures Of Sabrina' And Other Halloween Episodes You Can Stream Right Now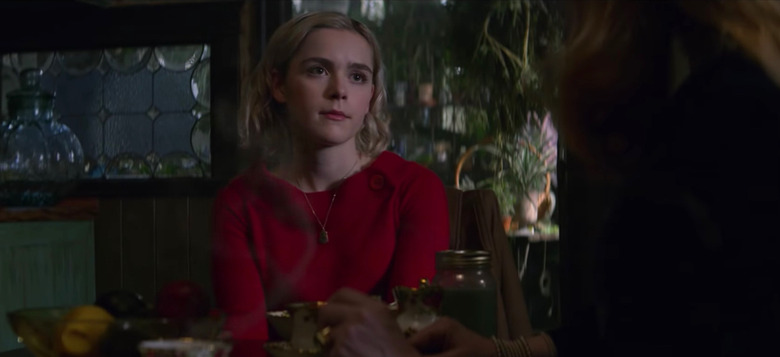 We may receive a commission on purchases made from links.
(Welcome to Small-Screen Stream, a feature where we share the best television shows streaming and where you can watch them.)
I'm going to do something a little different for this week's Small-Screen Stream column. Instead of focusing on full shows, I'm going to highlight individual episodes of TV shows that feature Halloween-centric episodes. I went with a mix of old and new, and popular and less popular entries. A lot of sitcoms have done multiple Halloween episodes through the years, so I got creative about which ones I chose of the many.
Halloween episodes can be a great way to get in the holiday spirit with a little more variety and a little less time commitment than a feature-length movie. It's also a good alternative for those of you who don't do well with full-blown horror. I love to revisit my favorite Halloween episodes every year, so I thought I'd introduce them to you — along with some new discoveries and hidden gems in the back catalogues of these streaming services. Let's get spooky!
The Chilling Adventures of Sabrina, Season 1, Episode 2: "The Dark Baptism"
Where To Watch: Netflix
Netflix's eagerly anticipated Sabrina re-imagining finally hit the service last Friday, and it's already generating significant buzz and binge sessions. I loved the entire season, which is unapologetically gothic and legitimately scary. For the sake of keeping this list on theme, it also has a Halloween-centric episode. Our titular half-witch, Sabrina (Kiernan Shipka) turns 16 on October 31, and is set to partake in a ceremony called the "Dark Baptism," where she'll revoke her mortal self and pledge herself to Satan. But that means leaving her friends behind and joining a patriarchal world she hasn't yet made up her mind about. This episode focuses on that decision; the one to retain the parts of herself she still loves, or risk isolating herself from her Devil-worshipping family.
The Office, Season 2, Episode 2: "Halloween"
Where To Watch: Netflix
The Office loved a good Halloween episode, but I'd be remiss to choose any other than the original. This episode finds Michael Scott torn over which member of his team to lay off after he gets the downsizing directive from corporate. Meanwhile, Pam and Jim prank Dwight by posting his resume on the internet. The real highlight in revisiting this episode is seeing all of the iconic costumes we've come to associate with these characters, like Sith Lord Dwight and Three-Hole-Punch Jim.
The Brady Bunch, Season 4, Episode 6: "Fright Night"
Where To Watch: Hulu
I grew up watching Brady Bunch reruns on Nick at Nite, and I distinctly remember this episode, when the Brady boys prank the girls with fake ghosts. The girls eventually catch on and exact their own revenge. If you're not into the "gee, shucks" humor of the Brady family, you might want to pass this one. But there's something extremely nostalgic about stepping back into this world for me; like trick-or-treating through an old neighborhood.
Stranger Things, Season 2, Episode 2: "Trick or Treat, Freak"
Where To Watch: Netflix
The trailers for season two of Stranger Things played up its Halloween setting, with images of pumpkins and the boys — Will, Mike, Dustin, and Lucas — in Ghostbusters costumes all set to Michael Jackson's "Thriller." Actual Halloween came early in the season — episode 2, in fact. While out trick-or-treating, Will has another vision of the Upside Down's tentacle monster. Meanwhile, at a high school party, Nancy and Steve break up when Nancy gets too drunk. Stranger Things is a perfect show for Halloween, and this entire season is appropriately October-y.
Happy Endings, Season 2, Episode 5: "Spooky Endings"
Where To Watch: Hulu
I miss Happy Endings. Don't we all? The charming sitcom deserved more than its three seasons, and this episode just cinches it. Who can't relate to planning an elaborate and exciting dream Halloween costume, only to have no one at the party "get it"? That's what happens for Dave and Alex, whose Austin Powers and Marilyn Monroe garbs don't exactly play out as planned. That cringeworthy humor was part of what made the short-lived series so endearing.
American Horror Story, Season 1, Episodes 4-5: "Halloween Pt. 1 & 2"
Where To Watch: Netflix
I feel like I work American Horror Story into these lists constantly. Sorry not sorry, because I genuinely love this silly damn show, and this pairing of Halloween episodes — where first learn the truth about Tate Langdon's school-shooting past, get a touching backstory for mysterious maid Moira, and watch as Constance tragically loses another child — is loaded with spooky goodness. The show was basically created in a lab for Halloween, but this is its most celebratory venture into the holiday.
Roseanne, Season 2, Episode 7: "Boo"
Where To Watch: Amazon Prime
This is bound to be a controversial choice, but I can't help but include one of the greatest-ever sitcom Halloween episodes on this list, despite the controversial star at its center. Roseanne was the queen of Halloween, and so famous were the show's yearly themed episodes that you can buy a collection of just the Halloween episodes on DVD. This episode, the first of its kind, finds Roseanne and Dan competing for the title of "Halloween master," with a series of escalating ghoulish pranks that end in Roseanne fake-hazing Dan's client in a haunted house. It's hard for me to watch anything Roseanne-related in good faith, but the original series aired before she lost it, and the rest of the cast is incredible, so I can justify a re-watch in hindsight — though I understand if many readers can't.
Buffy The Vampire Slayer, Season 4, Episode 4: "Fear, Itself"
Where To Watch: Hulu
Buffy had two iconic Halloween episodes, but this one is my favorite — and honestly, one of my favorite episodes of the series, period. It's quintessential Buffy, with the gang trapped in a frat house (which, fun fact, is the Murder House from American Horror Story) with a taunting demon during a Halloween party. It's funny, it's spooky, and it culminates in an all-timer of a joke. But mostly, I'm there for Anya in a bunny costume and Giles in a sombrero.
This Is Us, Season 2, Episode 6: "The 20s"
Where To Watch: Hulu
This is definitely a "Halloween lite" episode, but I realize that not everyone is game for the spookier stuff, and might enjoy a touching family story for the holiday instead. The episode shakes up the structure of This Is Us a bit by visiting the "Big Three" — Kevin, Kate, and Randall — in both their late 20s and their childhoods. The 20s-era stuff is all very compelling, but let's be real: the best part about this episode is Jack and Rebecca as Sonny and Cher, and little Randall as Michael Jackson. (If you're sensing a lot of costume appreciation in this list, you're not wrong.)
Dawson's Creek, Season 6, Episode 6: "Living Dead Girl"
Where To Watch: Amazon Prime
"Living Dead Girl" is the perfect early-2000s teen Halloween episode. There's a neon-soaked warehouse rave haunted by a dead actress, kissing in a haunted house, a breakup, and Oliver Hudson and Jensen Ackles in hunky supporting roles. Dawson's Creek attempted a number of spooky episodes (though, to the best of my knowledge, this is the only one actually set on Halloween) and this doesn't really rank high among them, but it's got all of that reliable teen Halloween imagery you've come to expect, like belly shirts and bad hair.
Parks and Recreation, Season 2, Episode 7: "Greg Pikitis"
Where To Watch: Netflix
This is my favorite episode of Parks and Recreation, a show I love dearly and rank highly, so that's saying a lot. I don't know what, specifically, makes this my favorite, except that it's not a fussy or "big" episode, but rather one that epitomizes the characters and some of their funniest quirks. Leslie, for example, is hell-bent on catching a vandal named Greg Pikitis who terrorizes the parks department every Halloween. While she and Andy seek vengeance, Ann throws an awkward costume party at her house. Like I said, there's nothing big or flashy about this episode, but it's a great "getting to know you" outing for the cast, and Chris Pratt gets some of his funniest-ever material. ("I'm not crying, I'm just allergic to jerks!")
It's Always Sunny in Philadelphia, Season 6, Episode 7: "Who Got Dee Pregnant?"
Where To Watch: Hulu
The concept of this episode is pretty genius. When Dee reveals to the rest of the gang that she got pregnant the night of the bar's Halloween party, they're forced to piece together the drunken night to remember if any of them are the fathers. The episode gets really close to having an incest subplot, and really, what more could you want from an episode of It's Always Sunny? This one is a classic for a reason.   
Bones, Season 3, Episode 5: "Mummy in the Maze"
Where To Watch: Amazon Prime
Bones has long been one of my "falling asleep" shows. That may sound like an insult, but it's the exact opposite; I find something about it so comforting and casual and lived-in and charming that I can't help but cozy up to it and drift to sleep. That means I've missed large swaths of its actual plot, but I do remember this early-run Halloween episode, where Booth and Bones discover the remains of two mummified girls and must search for clues in a haunted hay maze. Because I'm me, my favorite imagery is — of course — Bones in a Wonder Woman costume and Booth as Clark Kent; costumes that feel perfectly on-point for those two characters.
Sabrina: The Teenage Witch, Season 1, Episode 5: "A Halloween Story"
Where To Watch: Hulu
Why not bookend this list with Sabrina Spellman? Netflix's Chilling Adventures is a heavy departure from the late-90s, Melissa Joan Hart-starring ABC sitcom, though they share a central character, a cat, and a pair of blonde aunts. In this episode, Sabrina is thrilled to be invited to Harvey's Halloween party, but is forced instead to attend an event with her family. To solve the problem so Harvey won't warm up to her rival Libby, Sabrina creates a clone of herself who can barely speak but acts as a physical stand-in. It's one of those classic sitcom moves of trying to be at two parties at once, with a witchy twist. It's light stuff, but fun, and a reminder of why a live-action Sabrina caught our attention in the first place.