The Millennium Falcon Owners' Manual Reveals The Endless Customization Options For The Ship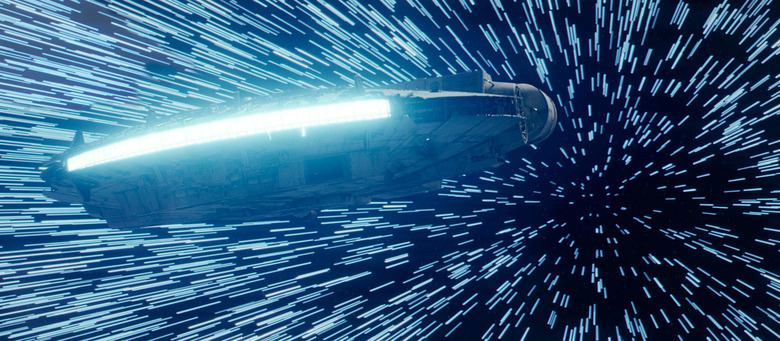 We may receive a commission on purchases made from links.
The Millennium Falcon might seem like a one-of-a-kind hunk of junk in the Star Wars galaxy, but as we've seen, the ship has seen plenty of modifications over the years. In the hands of a young Lando Calrissian, the ship had a slick paint job, an escape pod in the front mandibles, and a much more sleek look (it even almost had a more drastically different appearance). In the hands of Han Solo, it had seen better days, showing some wear and tear on the outside, but she still had it where it counts. But the ship can be customized even more than we thought.
According to the recently released Millennium Falcon Owners' Workshop Manual, customers who get their hands on the YT-1300 Modified Corellian Freighter have a lot more alternate Millennium Falcon designs at their disposal.
io9 got an early look inside the Millennium Falcon Owners' Workshop Manual, coming to shelves next month. In the book, authors and artists Ryder Windham, Chris Reiff, and Chris Trevas reveal the various modifications and customizable features that the YT-1300 Modified Corellian Freighter is capable of. Here's a page from the book showing some of the options: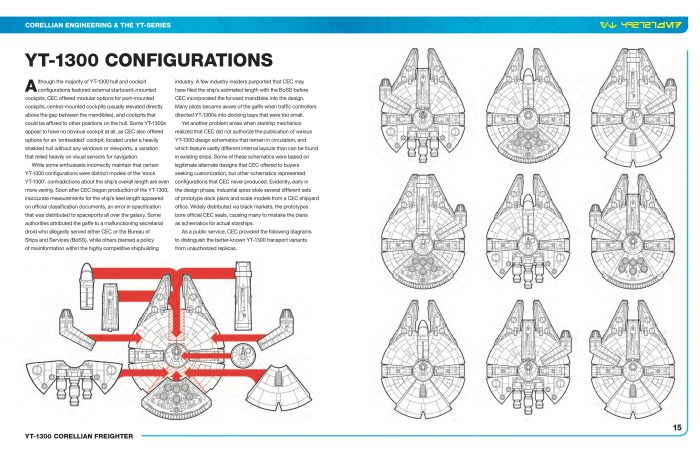 As you can see, the cockpit of the ship can switch sides. In fact, there are some designs that don't appear to have a cockpit at all, but that's because some of the designs featured an embedded cockpit without windows or viewports, forcing pilots to rely on their visual sensors for navigation. In addition, even the ship's thrusters in the back can look drastically different. Check out the varied designs with the three engines on the back, looking a little more like a futuristic rocket ship.
This makes me wonder if we'll ever see another version of the Millennium Falcon pop up on the big screen in any of the Star Wars movies. It would have been interesting to see the Falcon go up against another customized YT-1300 Modified Corellian Freighter in a sequel to Solo: A Star Wars Story, but due to the film's disappointing box office performance, that's likely not in the cards.
You can read more about why these various designs exist and how they came to be in the fictional history of the manufacturing of the YT-1300 Modified Corellian Freighter by zooming in on the text on this page. Otherwise, you can learn much more about the iconic ship when Star Wars: Millennium Falcon Owner's Workshop Manual hits shelves on November 27. You can pre-order it right now on Amazon for $26.99.