'Ralph Breaks The Internet' Clip: Ralph Has His First Brush With Auto-Fill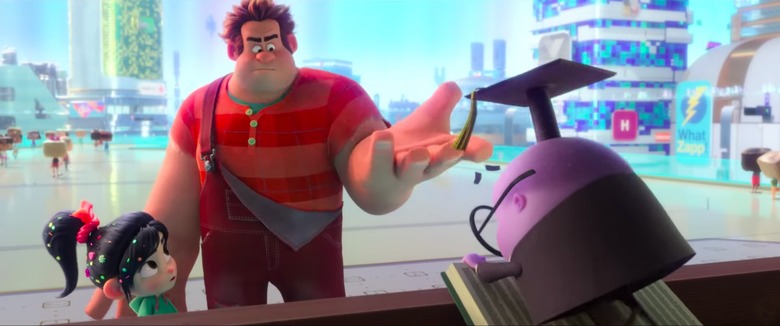 Forget "If Google Was a Guy," Ralph Breaks the Internet can do you one better. Meet KnowsMore, the egg-headed search engine whose auto-fill function may be a tad "aggressive." But it leads to some great comedy moments in the sequel that finds that arcade game bad guy lost in the internet.
Ralph Breaks the Internet Clip
The internet can be pretty intuitive for those of us who have been using it for years now, but for a retro arcade game character like Ralph, it's a strange new world. Even asking for help becomes an arduous task, as Ralph (John C. Reilly) and Vanellope (Sarah Silverman) approach a purple egg figure for information about Vanellope's broken "Sugar Rush" wheel. The search engine, KnowsMore, eagerly anticipates Ralph's every word in a fun animated riff off of auto-correct, a tech feature that is the bane of many of our existences. "I'm sorry, but my auto-fill is a touch aggressive today," he apologizes.
And in honor of "Internet Day," or the day of the first internet connection (and first internet crash), Ralph Breaks the Internet has released another video narrated by Sarah Silverman to promote Disney.com's day-long celebration of the World Wide Web.
Ralph Breaks the Internet is directed by Rich Moore and Phil Johnston, and also stars Jack McBrayer, Jane Lynch, Ed O'Neil, Alan Tudyk, Taraji P. Henson, Gal Gadot, Bill Hader and Alfred Molina.
Here is the official synopsis for Ralph Breaks the Internet:
"Ralph Breaks the Internet" leaves Litwak's video arcade behind, venturing into the uncharted, expansive and thrilling world of the internet—which may or may not survive Ralph's wrecking. Video game bad guy Ralph (voice of John C. Reilly) and fellow misfit Vanellope von Schweetz (voice of Sarah Silverman) must risk it all by traveling to the world wide web in search of a replacement part to save Vanellope's video game, Sugar Rush. In way over their heads, Ralph and Vanellope rely on the citizens of the internet—the netizens—to help navigate their way, including a webite entrepreneur named Yesss (voice of Taraji P. Henson), who is the head algorithm and the heart and soul of trend-making site "BuzzzTube."
Ralph Breaks the Internet opens in theaters on November 21, 2018.