One Short Scare: 10 Scary Short Films You Can Watch For Halloween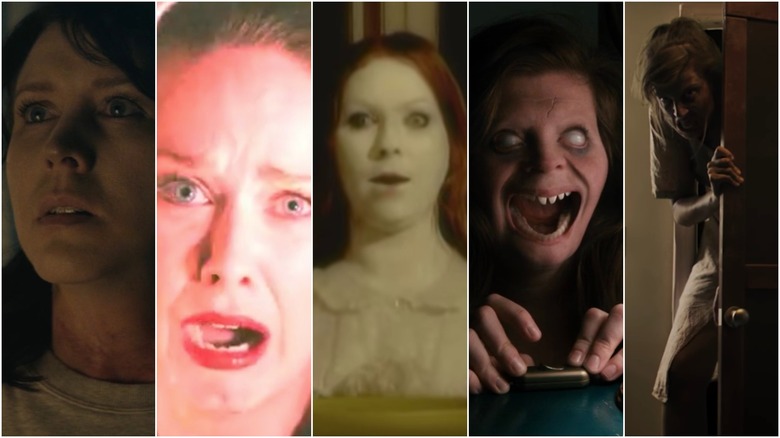 If you want to partake of horror movie thrills this Halloween week, but are pressed for time, I'm here to help. Horror short films have become abundant online in recent years, many of which appear more professionally made than some big budget Hollywood movies. With that in mind, big studios frequently find themselves turning to horror short filmmakers to adapt their shorts into feature films. But few expanded features ever capture the efficiency of the original short films.
Below, I've gathered 10 scary short films you can watch right now to get yourself in the Halloween spirit. Some are very short – one only runs a minute long! And some are a bit longer – the longest being a little over 16 minutes. Overall, you should have enough time in your busy schedule to sit back and let these short films give you the creeps.
Salt 
Salt hails from filmmaker Rob Savage, who helmed the excellent horror short Dawn of the Deaf, which found brilliant new ways to subvert the tired zombie sub-genre. Moving at a break-neck speed, Savage's latest features Alice Lowe (Prevenge) frantically trying to protect her sickly child (Beau Gadsdon) from something terrible and unholy. The only line of defense is a ring of salt – the age-old magic circle used to ward off evil. Part of the fun of Salt is watching the filmmaker come up with deliciously devious ways to obliterate the many protective salt circles that Lowe's character keeps creating. Scene after fast-paced scene presents a brief reprieve from the horror, only to quickly eliminate that safety. It's brilliant. Packing a wealth of terror and world-building in a little over 2 minutes, Salt is short storytelling at its finest.
Widow 
While I remain firm in my belief that most short films should remain short films, and not be extended into features, I'd gladly make an exception for Karl Mueller's Widow. The set-up alone makes me want to spend more time in this world: two psychics run a high-tech business that promises to connect people with their dead loved ones. Yet the duo here are very reluctant to show their results to their latest client, a wealthy widow hoping to contact her dead husband. "We make it a policy to never make an extraction more than two days after brain-death," one of the psychics says – before adding that the husband has been dead for six months. I love the visuals here – the way we see the widow being buzzed up through three sets of doors before she reaches her destination, and the way the two psychics are contrasted – one is casual in a t-shirt, the other in business professional attire. And I love the set-up they have to contact the dead – high-tech looking, yet clearly cobbled together. The real treat of Widow, though, is how excellent it builds. The scary moment here doesn't happen until the very last frame, but the dread builds right from the start. It's clear something is amiss here, and that the widow would be wise to heed the advice she's given...before it's too late. I'd love a full film focusing on these characters, and the terrible mistakes they make.
Lights Out
Lights Out is one of the two most-well-known entries on this list. By now, you're likely aware of this short, and how it lead to David F. Sandberg being asked to turn it into a feature film – which he did, going on to direct Annabelle: Creation and the upcoming Shazam! Unfortunately, the Lights Out feature can't hold a candle to the short, which is lean, mean and simple. A woman (played by Sandberg's wife Lotta Losten) home alone keeps spotting a figure in the darkness – a figure that quickly vanishes whenever the lights go on. That's really all there is to it, and that's enough. The premise and execution is so simple, and yet so wonderfully creepy. The feature added a bunch of nonsensical mythology that robs the story of its power. Stick with the short.
Mama
The second famous entry on this list, Mama was later adapted into a feature from original director Andy Muschietti, who went on to helm It. The feature-length Mama is a bit better than the feature-length Lights Out, but once again, the short film is superior. Mama starts with a young girl waking her younger sister awake. "Mom is back!" she says, and it's clear that this isn't something the children are thrilled about. Soon, we understand why: "mom" is a terrifying ghost, her hair billowing about her head as if she's underwater, her body moving in inhuman, jerky motions. Muschietti films Mama in such a way that it looks like it's one continuous shot, following the girls around the house as they try to get away from the specter. It's creepy as hell, and proves you can do so much with almost zero set-up.
Dining Room or There Is Nothing
Good lord does this give me the creeps. David B. Earle's Lynchian Dining Room or There Is Nothing is best viewed as a loop – there's no beginning or end. It just keeps happening, over and over. There's no escape. In this visually stunning 1 minute movie, a young woman painted up to look like a doll from hell sits at a long dining room table as flames flicker through the window behind her. Just what is going on here? I don't know, and that's what makes it so god damn scary. Of all the films on this list, Dining Room has the least to offer in terms of story. And yet, it might be my favorite film here. It burns itself into your brain, and leaves you very unnerved.
Intruders
Santiago Menghini's Intruders is gorgeous to look at – DOP Ray Lavers bathes the film in shadows and sodium lighting. It's also incredibly spooky. With no dialogue, Intruders presents three vignettes involving ghostly goings-on. The middle story is the most outwardly terrifying, involving a teen spying on his neighbors. But the two bookend tales make a great impression too, bringing a somberness to the creepy proceedings. There's a great sense of sorrow packed into the horror here – a palpable sadness that's just as haunting as any ghost. Menghini is bound to become a more well-known name in horror: he's adapting his horror short film Milk into a feature, with James Wan producing.
The Maiden
The Maiden is a short from Michael Chaves, director of the upcoming The Curse of La Llorona and The Conjuring 3. If those films are anything like The Maiden, we're in for a treat. What's great about this short is that it easily could've been treated with humor – the premise lends itself perfectly to horror-comedy. A real estate agent (Alia Raelynn) goes to extreme lengths to sell a huge mansion she knows for a fact is haunted. Sounds potentially funny, right? And yet, Chaves never gives in to temptation to make the situation light. From beginning to end, The Maiden is played for maximum horror, and the results are pitch-perfect. Chaves is so talented at delivering fear that he manages to make a bucket of soapy water seem scary. That's impressive.
Whisper 
Great horror can make the mundane seem creepy, and Julian Terry's Whisper does just that with an Amazon Echo. Here, a woman (Michelle Khare) attempting to fall asleep is jolted awake when her Amazon Echo starts responding to someone, or something that is whispering in the room. "Did you say...'I'm watching you?'" the helpful voice of Alexa asks from the Echo, and that's all it takes to send a chill down your spine. From there, Whisper builds towards a predictable, yet terrifying, conclusion. If you have an Amazon Echo, this short might make you think about turning it off when you go to bed. Terry is yet another filmmaker destined for bigger things – he's adapting his horror short They Hear It into a feature film for Legendary Pictures.
Vicious
Oliver Park's Vicious is cut from the same cloth as Insidious, which means it's not exactly what I'd call "original." But that doesn't make the 12-minute-plus short any less effective. In Vicious, a woman (played by Rachel Winters) comes home to her empty home...only to find it's not as empty as she previously thought. The filmmaking on display here is what makes the familiar premise of Vicious so memorable. Park gets great milage out of shadows, close-ups, and extremely slow pans. The camera glides towards things here, and we can just tell that when that camera finally settles on a location, what we see there won't be pleasant.
Autumn Harvest
At a little over 17 minutes, Fredrik S. Hana's Autumn Harvest is the longest film on this list. But it's worth the time. A slow, beautiful burn, this black-and-white, mostly dialogue-free fright-fest follows a fisherman engaging in some very nasty activities. With a tinge of sorrow and regret, the fisherman carries out brutal actions while being seduced by something inhuman. A mix of Ben Wheatley and H.P. Lovecraft, Autumn Harvest keeps its secrets, never offering up more than the audience needs. Icy and nightmarish, Autumn Harvest finds visual splendor in bloody horror.