Disney World's Lackluster Plans For Harry Potter Before It Went To Universal Studios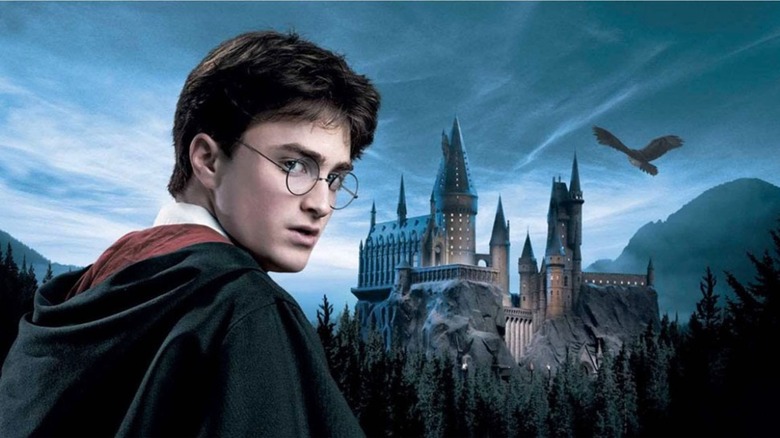 The Walt Disney Company has been one of the biggest entertainment forces in the world for decades, but they're not immune to the occasional boneheaded move. Even a giant like Disney can screw up, and arguably one of their most expensive gaffes was letting the Harry Potter theme park rights slip through its fingers and end up becoming a huge boon for Universal Studios, Disney's biggest rival.
While Universal gave a powerhouse franchise like Potter the full treatment it deserved, the original plan for a Walt Disney World Harry Potter mini-land was laughably sad – it's easy to see why Potter creator J.K. Rowling wasn't impressed with their pitch. Learn more about Disney's failed attempt to incorporate The Boy Who Lived into their park below.
On a recent podcast episode, theme park expert Jim Hill revealed Disney's initial plan to create a "mini-land" for Harry Potter in the newly-revamped Fantasyland in Walt Disney World's Magic Kingdom. Hill says that location was where Disney was considering building a Harry Potter mini-land:
"This was tiny. Itty bitty. There were two attractions. Basically it was going to be Buzz Lightyear. You were going to be in an Omnimover attraction with a wand instead of a gun, and you were moving through basically a Dark Arts teaching class. The other aspect was going to be a Care of Magical Creatures Petting Zoo."
By "Buzz Lightyear," Hill is referring to Buzz Lightyear: Astroblasters, a popular Disney attraction based around the Toy Story character that slowly moves visitors through a shooting gallery environment.
And that petting zoo idea was in direct response to what Universal did with the Triceratops Encounter in the Jurassic Park section of Islands of Adventure. That experience gave visitors the chance to get up close to an animatronic triceratops, and Hill says that this second attraction in the Potter mini-land would have basically copied that concept but with a Hippogriff instead of a dinosaur.
They also had plans to include a small quick service restaurant based on the Leaky Cauldron in this section. Needless to say, Rowling (who had creative input over her characters going to theme parks) was not impressed with Disney's pitiful attempt, so she took her IP across the street, where Universal actually seemed to understand the size and scope needed to turn Potter into a theme park phenomenon.
As Hill points out, Universal's success with Harry Potter ultimately forced Disney to innovate and shell out more cash to compete, which resulted in things like the immersive Star Wars: Galaxy's Edge. So while this theme park escalation seemed to hurt Disney in the short term, it may have been the spark that lit the fire they needed to take things to the next level.