'Trial Of The Chicago 7' Movie Will Be Directed By Aaron Sorkin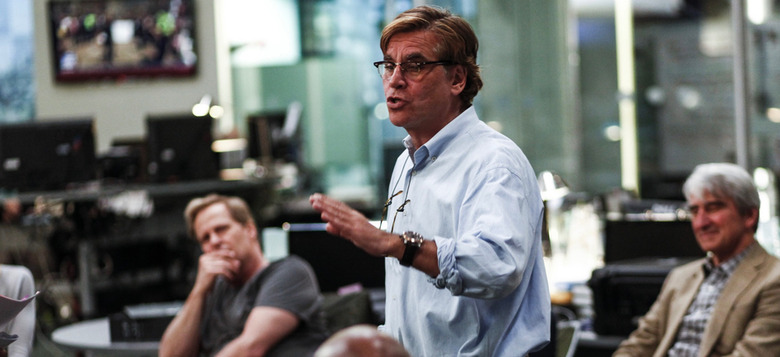 Trial of the Chicago 7, a movie that at one point was going to be directed by Steven Spielberg, and later Paul Greengrass, has found a new filmmaker. Aaron Sorkin, the screenwriter who made his directorial debut with last year's Molly's Game, will now helm the Trial of the Chicago 7 movie, with Sacha Baron Cohen in talks to play activist Abbie Hoffman.
In 1969, seven defendants – Abbie Hoffman, Jerry Rubin, David Dellinger, Tom Hayden, Rennie Davis, John Froines, and Lee Weiner — were put on trial, charged with conspiracy and other charges related to anti-Vietnam War protests that took place during the 1968 Democratic National Convention in Chicago. The trial became a hot-button topic across the country, and represented the fractured nature of the country at the time. Steven Spielberg's Amblin Entertainment has been trying to mount a feature film based on the trial for years, and now it appears to be moving forward at last.
Variety reports Aaron Sorkin will now direct the film, which makes sense, since he's the one who wrote the film's original screenplay more than a decade ago. In 2013, Paul Greengrass was attached to the project, but left over a budget dispute.
For the bulk of his career, Sorkin was known for his writing, penning crackling screenplays for film and TV, including Steve Jobs, Moneyball and The West Wing. He made his directorial debut in 2017 with Molly's Game, and clearly the experience didn't turn him off ever helming a film again. At one point, Spielberg himself was set to direct Trial of the Chicago 7, but he'll now produce instead. Per Variety, Spielberg felt Sorkin would be perfect to direct the Trial of the Chicago 7 movie after seeing his work on Molly's Game.
Sacha Baron Cohen will likely star in the film as Abbie Hoffman, the famed political activist who co-founded the Youth International Party, AKA the "Yippies". Cohen has been sought after for the project since the days when Spielberg was planning to direct, and now it will probably happen. Sorkin wants to gather an A-list cast for the film. At one point, Will Smith was in talks to appear, but it's unclear if that will still happen.
This won't be the first film to focus on the trail. In 2007, Brett Morgen released Chicago 10, a semi-documentary that combined archival footage with animated recreations to tell the story of the trial and its effect on the country.