'Speed Kills' Trailer: John Travolta Is The Fastest Man On The Seas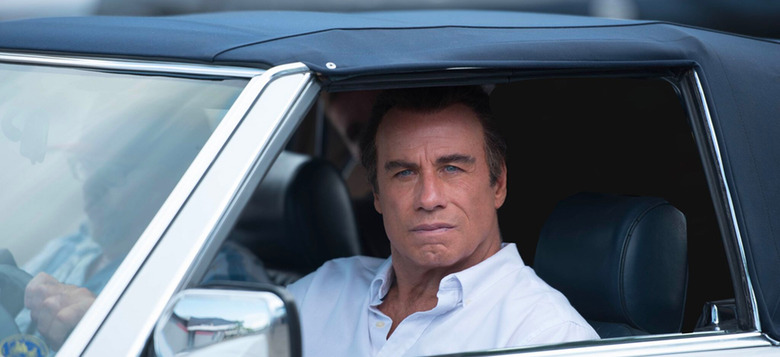 After his memorable turn in the blockbuster Gotti, John Travolta is back as the Cigarette Boat King in Speed Kills! The film is based on the true story of Don Aronow, a speed boat racing champion who lead a double life. The latest Speed Kills trailer has Travolta speeding through the waters of Miami, running drugs and making a whole bunch of money. Unfortunately, it seems no on ever told Travolta's character that...speed kills. Watch the trailer below.
Speed Kills Trailer 
"My name is Ben Aronoff!" John Travolta says at the start of this Speed Kills trailer. "I'm a self-made millionaire and and an offshore boating champion! My boats have won hundreds of races. And oh yeah, they've also moved 100 million pounds of cocaine through Miami!" That monologue is all you need to know about Speed Kills, a new film in which "speedboat racing champion and multimillionaire, Ben Aronoff, leads a double life that lands him in trouble with the law and drug lords."
The movie is based (loosely) on the book Speed Kills: Who killed the Cigarette Boat King, The Fastest Man on the Seas?, by Arthur Jay Harris, and I really wish the movie had kept that entire title. Here's the book's synopsis:
In the Miami of the 1980s, it was the ultimate symbol of power and wealth: the roaring muscle speed boat known as the Cigarette. And the undisputed king of the Cigarette Boat was Don Aronow, the man who built the million-dollar playtoys for presidents, princes and the privileged. Aronow was a man with an insatiable appetite for ravishing women and the exquisite feel of money washing through his fingers. He had it all. Then on February 3, 1987, an unknown assailant gunned Aronow down a Miami street, a few hundred yards from his own boatyard. The murder would confound investigators, shock an already crime-weary city, and reveal a dark world of criminality, corruption and violence that existed within the Sunshine State.
Not only is there a Speed Kills movie, there's also a Speed Kills VR Experience, which features the cast of the film in a "fully immersive VR" experience "split across eight episodes each running for around seven to nine minutes in length."
In addition to Travolta, Speed Kills features Katheryn Winnick, Jennifer Esposito, Michael Weston, Jordi Mollà, Amaury Nolasco, Matthew Modine, with James Remar and Kellan Lutz.
I like Travolta, and I think he can still deliver good performances. But boy oh boy, I don't know about this. I do know that Speed Kills looks wacky enough that it might make for an interesting viewing experience. Speed Kills arrives in theaters and on VOD/ Digital HD on November 16, 2018.