Is 'Arrested Development' Ending On Netflix? We Can Only Hope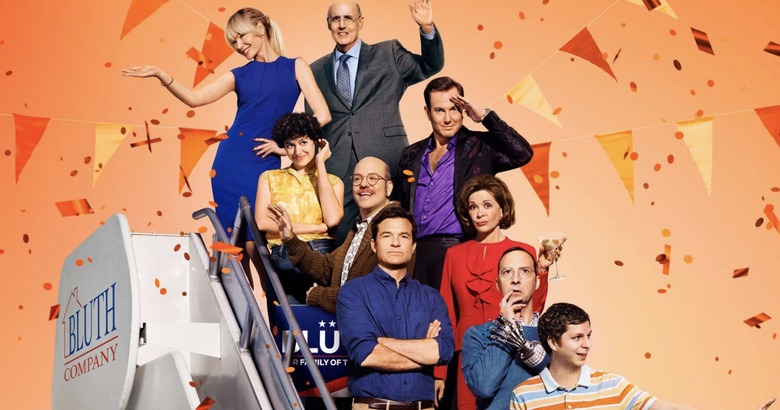 There was a time, not very long ago, when Arrested Development ending seemed like a huge mistake. Now, it's probably for the best. The Netflix revival of the once-great comedy series has lost its luster, and there's a good chance the show is ending after its next season. At least, that's what co-star David Cross says. Season 5 was cut in half, with eight episodes dropping this year, and the next eight set to arrive in 2019. After that, Cross says, the it's likely Arrested Development is done.
Everyone seemed pretty damn excited when Netflix rescued Arrested Development after Fox cancelled it. Then we saw the results! While the entire cast came back, their busy schedules kept them from acting alongside each other. This lead to a lack of what made the show so great to begin with: the ensemble. The first Netflix season had its moments, but never quite came together. Season 5 – which was split in half – fared even worse. While there's still more of season 5 to come, David Cross thinks the end is near.
Appearing on the Late Night with Seth Meyers Podcast (via IndieWire), Cross said: "I've learned to say 'never say never,' but I can't see it happening again, I think for a number of reasons." Cross didn't elaborate on those reasons, but they're easy to guess. For one thing, star Jeffrey Tambor has faced several sexual harassment allegations from on the set of Transparent. For another, the press tour for the first half of season 5 was a bit of a disaster. During a New York Times interview, the male members of the cast all excused, or even defended, some of Tambor's abusive behavior on the Arrested Development set (something Cross later apologized for). And lastly, the show just isn't that good anymore. The magic is gone, and it would probably be for the best to let the show come to a merciful end.
Launched in 2003, Arrested Development follows the Bluth family, as played by Jason Bateman, Portia de Rossi, Will Arnett, Michael Cera, Alia Shawkat, Tony Hale, David Cross, Jeffrey Tambor and Jessica Walter. The first three seasons – which were hilarious – aired on Fox, but low ratings lead to Fox cancelling the series in 2006. In 2013, Netflix revived the series with a 4th season.
The final eight episodes of season 5 will arrive on Netflix "at the beginning of the new year," according to Cross. By then we should have an official annoucement from Netflix regarding the future – or lack-thereof – of the series.