'American Vandal' Canceled By Netflix, But It Could Find Life Elsewhere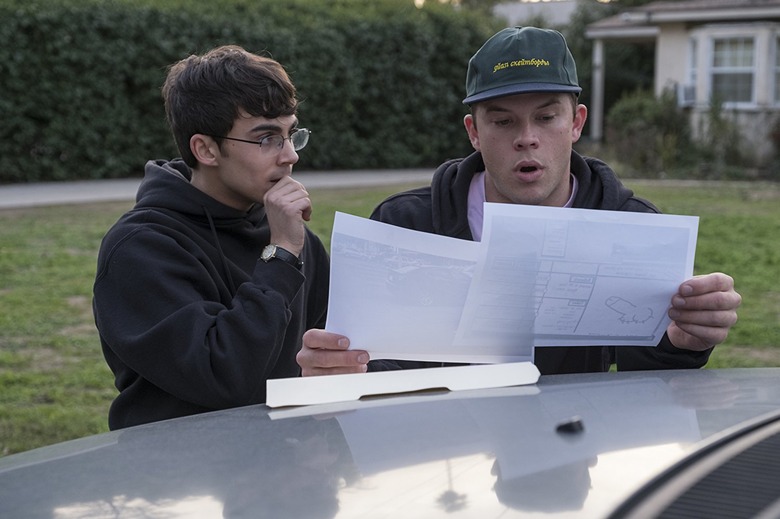 A true crime has been committed by Netflix. The streaming giant has canceled the critically acclaimed mockumentary series American Vandal after two seasons. But things aren't looking completely shitty for the hilarious high school-set satire of the true crime genre. Though American Vandal may be canceled at Netflix, the series could potentially be picked up by another platform.
Variety reports that, after two seasons, American Vandal has been canceled at Netflix. In a statement released by the streaming service following the cancellation, Netflix said:
"'American Vandal' will not return for a third season.We're very grateful to the creators, writers, cast and crew for bringing their innovative comedy to Netflix, and to the fans and critics who embraced its unique and unconventional humor."
However, reports suggest that American Vandal could find a second life on another platform. A source told Variety that "other platforms have expressed interest in continuing the series." That would be a first for a Netflix series, especially after the platform has become known for picking up series that would not get greenlit elsewhere. But Netflix has been on something of a cancellation spree recently, likely in anticipation of competition from new emerging streaming services and the services' glut of new titles pushing Netflix to prioritize in-house productions. Variety notes that American Vandal was produced for Netflix by an outside studio, which could have led to Netflix's cancellation as the service increasingly looks to produce projects in-house for control of global rights.
So where else could American Vandal go? There are the possibilities of Netflix's biggest rivals: Hulu and Amazon, or even Apple as the latter looks to build its catalogue ahead of its launch. Maybe Funny or Die could save it, as it is one of the production companies behind the mockumentary series.
Whatever the case, I hope that this isn't the end for the supremely funny, surprisingly perceptive series. Created by Tony Yacenda and Dan Perrault and starring Tyler Alvarez, Griffin Gluck, Jimmy Tatro, Melvin Gregg, and Travis Tope, American Vandal started off with the premise of a one-off SNL skit (who drew the dicks?!) sending up the popularity of true-crime docuseries like Netflix's own Making a Murderer, and gradually proved to be one of the most incisive and emotional depictions of the high school experience. 13 Reasons Why wishes it could be this show.