'Twilight Zone' Reboot Casts Adam Scott To Recreate William Shatner Episode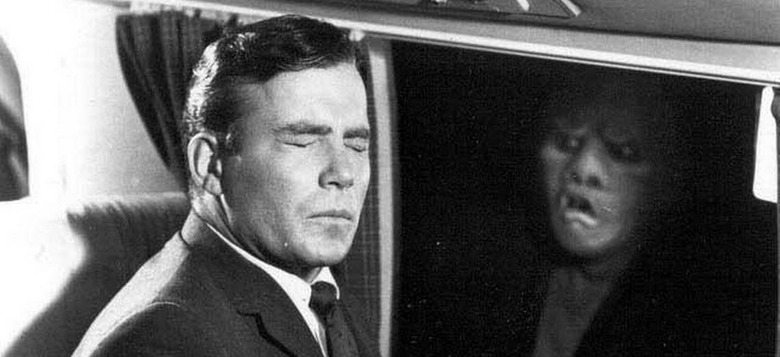 Adam Scott is going to face off against a gremlin in Jordan Peele's Twilight Zone reboot. The Parks and Recreation actor will recreate the role made famous by William Shatner (and later John Lithgow) in a remake of "Nightmare at 20,000 Feet." The episode concerns a man who spots a monster on the wing of a plane mid-flight, but can't convince anyone around him he's telling the truth.
One of the most famous episodes of the original run of The Twilight Zone was "Nightmare at 20,000 Feet." Written by I Am Legend author Richard Matheson, the episode featured William Shatner as Bob Wilson, a man recovering from a nervous breakdown. The breakdown happened on an airplane, and now he's on yet another plane to go back home. While looking out the window at one point, Bob spots a gremlin on the wing of the plane. Frantic, he tries to warn everyone, but the passengers and flight crew think he's crazy. Here's a clip.
Nightmare at 20,000 Feet
Now, Jordan Peele is going to recreate the famous episode, with Adam Scott. The episode is titled "Nightmare at 30,000 Feet", which is similar but not quite the same thing, which could indicate that things are being altered a bit. Gerard McMurray, director of The First Purge, will helm. Scott can do both comedy and drama, so it'll be interesting to see how he plays this.
"Nightmare at 20,000 Feet" was created once before in The Twilight Zone: The Movie. Mad Max: Fury Roady director George Miller helmed the segment, which had John Lithgow stepping in for Shatner. It's without a question the best segment in the entire movie.
Nightmare at 20,000 Feet Movie 
The Twilight Zone reboot will be hosted by Peele, who steps into the shoes of original creator and host Rod Serling. "The realization, for me, was that it was an opportunity to attempt to continue with Serling's mission," Peele said of his new reboot. "If we approach it without ego and sort of bow to Serling, that will hopefully suffice for our fellow Twilight Zone fans but also bring back a show that I think is needed right now. Because it's a show that has always helped us look at ourselves, hold a mirror up to society." Peele added: "Rod Serling was an uncompromising visionary who not only shed light on social issues of his time, but prophesied issues of ours. I'm honored to carry on his legacy to a new generation of audiences as the gatekeeper of The Twilight Zone."
The Twilight Zone reboot will arrive on CBS All Access in 2019.