'The Girl In The Spider's Web' Clip: Lisbeth Salander Stirs Up Trouble At The Airport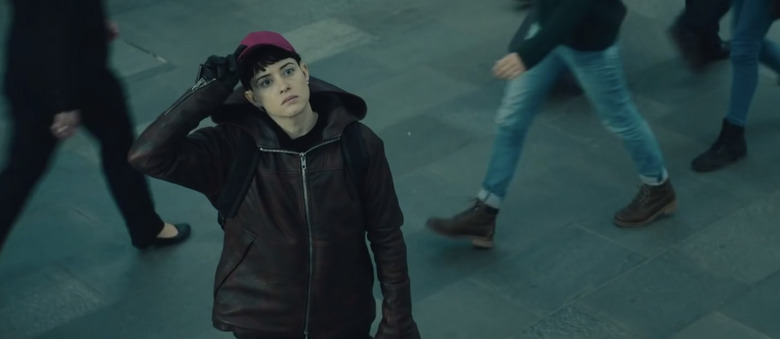 Even though the end of the year brings plenty of awards season titles to the table, that doesn't mean everything else goes into hiding. There are still plenty of movies coming over the next couple months bringing chills, thrills, excitement and laughs. The release of Sony's The Girl in the Spider's Web, a reboot of The Girl with the Dragon Tattoo franchise, might be a little light on the latter when it hits theaters in a couple weeks. But a new clip shows it will have plenty of suspense and action. Plus, who knows, maybe there's a chance Claire Foy could land an Oscar nomination.
Watch The Girl in the Spider's Web clip below.
The Girl in the Spider's Web Clip
In the clip, Lisbeth Salander (Claire Foy) stirs up some trouble at an airport and uses herself as a distraction in order to free Lakeieth Stanfield (Get Out) from custody. We're not sure what he's being held for or why Lisbeth Salander is breaking him out at putting herself at risk to do so, but Stanfield's line of, "You don't understand what this is, do you?" indicates that there's something much bigger in play here that Salander maybe doesn't fully understand.
Some of the early buzz that hit the web (pun intended) this week compared the action thriller to the recent James Bond offerings, and this clip very much aligns with those sentiments. It also feels a little like a Jason Bourne movie due to the visual aesthetic, albeit with significantly less shaky camera work.
Fede Alvarez, director of the Evil Dead remake and Don't Breathe, is at the helm of The Girl in the Spider's Web, and the rest of the cast features Sverrir Gudnason, Sylvia Hoeks, Stephen Merchant, Claes Bang, Christopher Convery, Synnøve Macody Lund, and Vicky Krieps.
Here's the official synopsis for The Girl in the Spider's Web:
Lisbeth Salander, the cult figure and title character of the acclaimed Millennium book series created by Stieg Larsson, will return to the screen in The Girl in the Spider's Web: A New Dragon Tattoo Story, a first-time adaptation of the recent global bestseller. Golden Globe winner Claire Foy, the star of "The Crown," will play the outcast vigilante defender under the direction of Fede Alvarez, the director of 2016's breakout thriller Don't Breathe; the screenplay adaptation is by Steven Knight and Fede Alvarez & Jay Basu.
The Girl in the Spider's Web hits theaters on November 9, 2018.