Jamie Lee Curtis Will Return For 'Halloween' Sequel If David Gordon Green Is Directing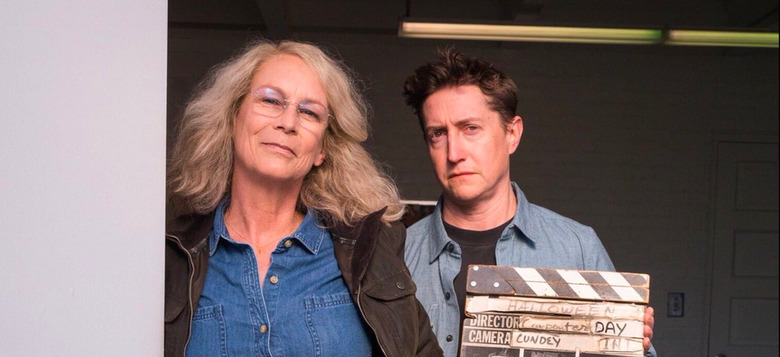 There's been a lot of talk about a potential Halloween sequel in the wake of the new film's box office success. But one pressing question that's lingered has been whether or not Jamie Lee Curtis would return for yet another film as ultimate final girl Laurie Strode. We now have the answer! According to Curtis herself, she'd be happy to come back – under one very specific condition.
"If David Gordon Green called me up and said let's do another Halloween, I would do another Halloween," Jamie Lee Curtis told Empire Magazine Australia. "Because he did such a beautiful job creating this movie." There you have it: if Blumhouse wants more Curtis, they better ink a deal with Green, pronto.
There's been some confusion about a Halloween sequel. Before the 2018 film hit theaters, a rumor surfaced that Blumhouse and Universal were already moving forward with a sequel, and that new Halloween director David Gordon Green would not be involved. Just recently, however, co-writer Danny McBride confirmed that he and Green have been "asked to figure it out," adding: "There are definitely talks on whether we will do more of them and we're just trying to see what best makes sense."
With Curtis' very pro-David Gordon Green statement now out in the wild, it would be very foolish of producers to attempt to mount a new Halloween without Green's involvement. Of course, that's assuming they want to make a sequel with Jamie Lee Curtis. They could always follow the path of other Halloween sequels and make a follow-up film with completely new characters. But it's clear that one of the reasons audiences have taken so kindly to the new film is Curtis' presence. Having her back as Laurie Strode made the new movie extra special, and the logical next step would be to keep that momentum going.
I remain conflicted about this. I'm a huge Halloween franchise fan, and I had a lot of fun with the 2018 film. But one of my favorite elements of the latest movie is that it provides some closure to Laurie Strode. After 40 years of living in the shadow of Michael Myers, she finally reclaims her own narrative and beats him. To make a new movie would effectively rob the conclusion of the new film of much of its impact. And yet, it was so fun to have Curtis back and kicking ass that it would be hard to resist seeing her come back yet again.