'Fantastic Beasts: The Crimes Of Grindelwald' Tracking For A $65-75 Million Opening Weekend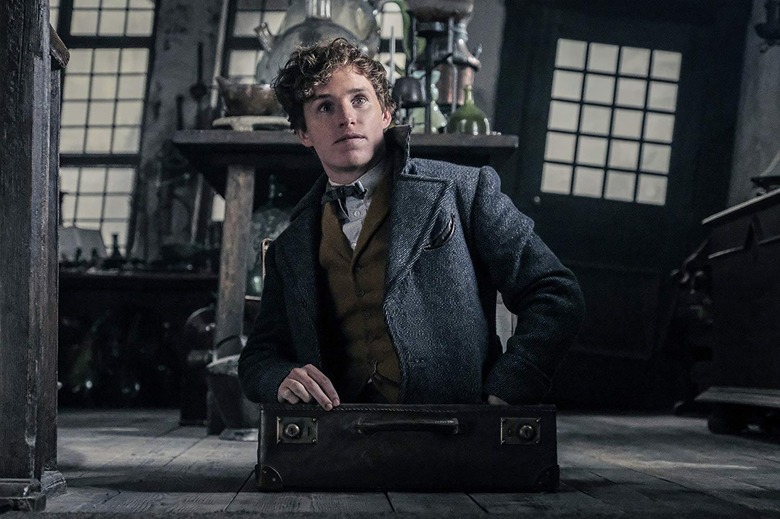 Fantastic Beasts: The Crimes of Grindelwald is set to have a magical opening weekend at the box office. The sequel to 2016's Fantastic Beasts and Where to Find Them is set to score around the same opening box office when it opens in November, with industry insiders setting the box office tracking between $65-$75 million.Deadline reports that Fantastic Beasts: The Crime of Grindelwald is tracking for a $65 million to $75 million opening weekend, putting it squarely in the same ballpark as the 2016 Fantastic Beasts which, at $74.4 million, scored the lowest three-day domestic opening in the Harry Potter "Wizarding World" franchise. But some global audiences worked a little magic, and went on to rake in $580 million total at the international box offices, bringing its total haul to $814 million.
Now, The Crime of Grindelwald looks to make the same modest domestic numbers, but industry insiders expect the international box office to give the sequel yet another magical boost. That, and the film marketing's push to tie Fantastic Beasts back to Harry Potter more than ever, Deadline notes:
All marketing materials for the sequel are making connections to the Potter universe with shots of Hogwarts in the trailer, Jude Law as a young Albus Dumbledore and Johnny Depp as Gellert Grindelwald, a notorious dark wizard who makes a big splash here. The added advantage that the sequel has over the 2016 movie is that simply it's a sequel.
Sequels tend to do better at the box office, so it's possible that with the Harry Potter universe tie-ins and the fan anticipation for a Fantastic Beasts sequel, that The Crimes of Grindelwald will do even better than its 2016 predecessor. If not, well, there are three more films — each set in a different international city — to make up for it.
Fantastic Beasts: The Crimes of Grindelwald is written by J.K. Rowling and directed by David Yates. The sequel stars Eddie Redmayne, Katherine Waterston, Dan Fogler, Alison Sudol, Ezra Miller, Zoë Kravitz, Callum Turner, Claudia Kim, William Nadylam, Kevin Guthrie, Jude Law, and Johnny Depp. Here is the film's synopsis:
In an effort to thwart Grindelwald's plans of raising pure-blood wizards to rule over all non-magical beings, Albus Dumbledore enlists his former student Newt Scamander, who agrees to help, unaware of the dangers that lie ahead. Lines are drawn as love and loyalty are tested, even among the truest friends and family, in an increasingly divided world.
Fantastic Beasts: The Crimes of Grindelwald opens in theaters on November 16, 2018.