'Vox Lux' Trailer: Natalie Portman Is Off The Deep End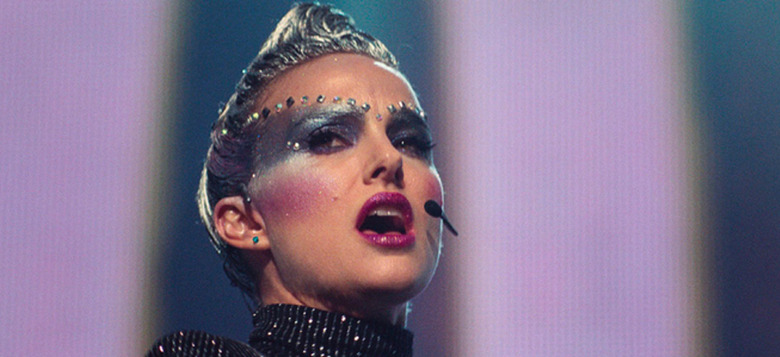 Natalie Portman is off the deep end, watch as she dives in, as she stars in Vox Lux, the latest film from Brady Corbet. This twisted look at the dark side of fame finds Portman playing a pop star in decline, struggling to deal with her controversial actions and her waining career. Jude Law, Raffey Cassidy, Stacy Martin and Jennifer Ehle also star. Watch the Vox Lux trailer below.
Vox Lux Trailer
Vox Lux is a curious film. While the marketing focus is likely to lean heavily on Natalie Portman, the actress doesn't actually show up until almost an hour into the movie. In reality, Vox Lux is two films in one. In the first segment of the film, we meet Portman's character Celeste when she's still a teenager, played by Raffey Cassidy. After surviving a shockingly violent school shooting, Celeste and her sister Eleanor perform a song at a memorial service. The song goes over so well that it transforms her into an overnight sensation on the path to pop superstardom. In the second half, we see Celeste now in her 30s (played by Portman), much changed by her life experiences, and living with a teenage daughter (also played by Raffey Cassidy).
I saw Vox Lux at TIFF, and found it to be uneven, but engrossing. Corbert is a truly gifted filmmaker, and there are a wealth of elements here that make the movie wholly unique. As I wrote in my review:
"A sonic nightmare, booming with a terrifying and powerful score from Scott Walker (with songs by Sia), Vox Lux is a living, breathing entity – a unique phantasmagoria of death and music. Each section of the film is kicked off with a burst of violence – the school shooting at the beginning, and a terrorist attack on a beach for the second half. It's as if these are burnt offerings; human sacrifices in order to appease the dark elder gods of fame."
This is Corbert's second directorial effort. His first was the much better Childhood of a Leader, and after that and Vox Lux, I'm more than ready to see whatever it is he makes next.
Vox Lux opens December 7, 2018.
In the year 1999, on the eve of the 21st century, teenage sisters Celeste and Eleanor survive a seismic, violent tragedy. The sisters compose and perform a song about their experience, making something lovely and cathartic out of catastrophe – while also catapulting Celeste to stardom. By 2017, the 

now 31-year-old Celeste is mother to a teenage daughter of her own and struggling to navigate a career fraught with scandals when another act of terrifying violence demands her attention.