'Outlaw King' Trailer: Chris Pine Gets His 'Braveheart'-Style Speech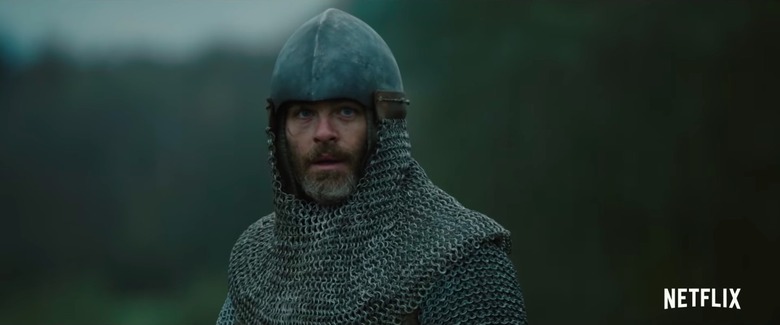 David Mackenzie's Outlaw King may be a bit shorter when it hits Netflix next month, but it's still just as epic. Following lukewarm reactions at TIFF, Mackenzie trimmed the Scottish war epic by 20 minutes, and now that recut version has a new trailer from Netflix. This time, Mackenzie's Hell or High Water star Chris Pine gets to give way more inspiring speeches.
Outlaw King Trailer
Less than a month before Outlaw King premieres on Netflix, the streaming service has released a new trailer for the Scottish war epic that reunites Hell or High Water duo David Mackenzie and Chris Pine. But while their second collaboration was highly anticipated, the reception to Outlaw King when it debuted at TIFF this past September was less than enthusiastic. Most of the buzz to come out of the film was about Pine's full-frontal scene which, alas, you don't get to glimpse in this new Outlaw King trailer.
In his TIFF review, /Film's Chris Evangelista called Outlaw King "an unrelentingly brutal, often funny, haphazardly edited affair," that has an "unrelentingly bleak focus on death and dismemberment. By the time Outlaw King comes to its close, you'll be left feeling utterly drained."
But Mackenzie heard the criticism and quickly headed back to the cutting room, where he trimmed the film from 137 minutes to approximately 117. "I could feel what the audience was like in the theater," he told Deadline. "I'm sensitive to the way they felt." By the time this new recut version hit the festival circuit again at the London Film Festival, the reception was much warmer — which could intrigue viewers hoping to give it a second change once the film hits Netflix this November.
Here is the official synopsis for Outlaw King:
The untold, true story of Robert The Bruce who transformed from defeated nobleman, to reluctant King, to outlaw hero over the course of an extraordinary year. Forced into battle in order to save his family, his people and his country from the oppressive English occupation of medieval Scotland, Robert seizes the Scottish crown and rallies a ragtag group of men to face off against the wrath of the world's strongest army lead by the ferocious King Edward 1 and his volatile son, the Prince of Wales.
Outlaw King premieres on Netflix and opens in select theaters on November 9, 2018.