DreamWorks Is Turning 'Mice And Mystics' Board Game Into An Animated Movie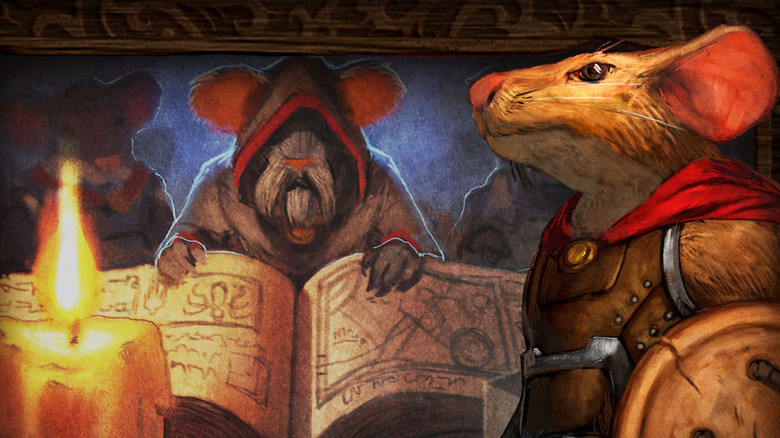 DreamWorks Animation is set to bring the acclaimed Mice and Mystics board game to the big screen. A Mice and Mystics movie may soon be on its way, with The Hills Have Eyes director Alexandre Aja set to helm the adaptation of the role-playing board game.
Three years ago, /Film's Peter Sciretta drew up a wish list of sorts for the board games that deserved a movie adaptation. Now, DreamWorks is getting set that grant that wish.
Variety reports that the animation studio is in final negotiations for the movie rights to Jerry Hawthorne's board game Mice and Mystics. The role-playing game, which was our No. 1 pick for games that should be adapted to film, follows mice heroes who must race through a vast castle to break the curse of the evil Vanestra, fighting rats, cockroaches, spiders, and the castle cat, Brodie. Its complex, deeply involved story seemed perfect for a big-screen adaptation, and it seems that DreamWorks thinks so too.
If talks go through, The Hills Have Eyes and Horns director Alexandre Aja is set to direct a script by Aquaman scribe David Leslie Johnson. Vertigo Entertainment's Roy Lee and Jon Berg are producing.
Here is the epic synopsis for the board game to give you a taste of the animated Mice and Mystics movie that could soon come to the big screen:
ONCE UPON A TIME In the kingdom of Owendale there lived a kind, but lonely, king who had no queen to help him rule the country or raise his son, Prince Collin. One autumn day an emissary arrived at the castle – the mysterious and beautiful Queen Vanestra. Before long, the King announced his intentions to marry Vanestra. And then the dark days came. ADVENTURE AWAITS. In Mice and Mystics players take on the roles of those still loyal to the king – but to escape the clutches of Vanestra, they have been turned into mice. Play as cunning field mice who must race through a castle now twenty times larger than before. The castle would be a dangerous place with Vanestra's minions in control, but now countless other terrors also await heroes who are but the size of figs.  ... Mice and Mystics is a cooperative adventure game in which the players work together to save an imperiled kingdom. They will face countless adversaries such as rats, cockroaches, and spiders, and of course the greatest of all horrors: the castle's housecat, Brodie. Mice and Mystics is a boldly innovative game that thrusts players into an ever-changing, interactive environment, and features a rich storyline that the players help create as they play the game.
No release date has yet been set for Mice and Mystics. The next DreamWorks film to hit theaters is the highly anticipated How to Train Your Dragon: The Hidden World, out February 22, 2018.