'The Grudge' Reboot Will Terrify Audiences Earlier Than Expected With New Release Date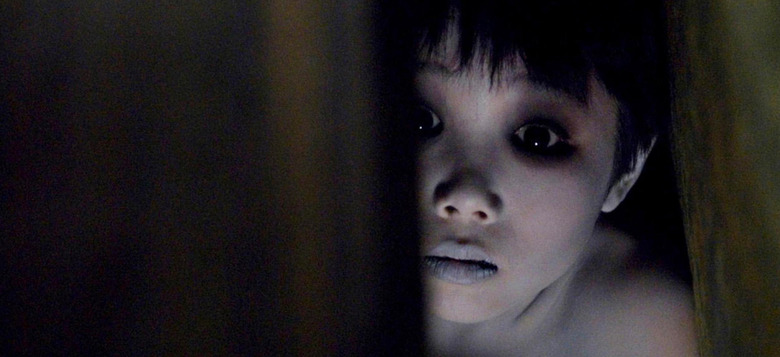 Sony has enough confidence in their The Grudge reboot that they've decided to move the release date up several weeks. The Nicolas Pesce directed horror show will now arrive in theaters in June of 2019, instead of August. The reboot stars Andrea Riseborough, Demián Bichir, John Cho, Lin Shaye and Jacki Weaver, and takes the story into the heart of American suburbia. More on the new Grudge reboot release date below.
According to Deadline, the latest Grudge film will now open on June 21, 2019 instead of August 16, 2019. This likely indicates Sony is happy with the movie, and hoping to reach a wider audience. The Grudge began as the Japanese horror-series Ju-On, which spawned 12 films. Those movies primarily revolve around a haunted house where the brutal murder of a mother and son (and cat) unleashed a curse that attaches itself to nearly everyone who sets foot in the home. Ju-On received an American remake in 2004 with The Grudge, which was then followed-up by two American sequels.
Now, producers Sam Raimi and Rob Tapert are bringing the series back from the dead with a new reboot, simply titled Grudge. "We are so excited about this new adaptation," Raimi said. "We went back to the original source material to deliver a relentless supernatural thrill ride that explores the horrors of American suburbia."
I'm not a Grudge super-fan, so under normal circumstances, I wouldn't be very interested in this reboot. But Raimi and Tapert have brought in Nicolas Pesce to helm the film, and that's enough to drive me to check Grudge out. Pesce helmed The Eyes of My Mother, one of the most disturbing horror movies I've ever seen. It's a black and white nightmare, filled with haunting imagery and a kind of repulsive beauty. I've never really seen anything like it. /Film's Jacob Hall hit the nail on the head when he wrote:
"The Eyes of My Mother isn't a crowdpleaser. It's not fun in the traditional sense of the word. It may leave those without a thick skin for cinematic cruelty a little overwhelmed and sickened. But this is an audacious, undeniably impressive film that achieves exactly what it sets out to accomplish. This will not be an easy experience to shake."
Pesce followed Eyes of My Mother up with Piercing, a film I haven't seen yet, but have heard good things about. In her /Film review, Marisa Mirabal wrote:
"Pesce delivers a carefully crafted sophomore feature that explores the dangerous limits taken to rectify trauma and fulfill various desires. A sick and stylish love letter to giallo films of the '70s, Piercing is cinematic kink at its finest."
Pesce directing Grudge could turn out to be the best thing to ever happen to the American-version of this franchise. Adding Andrea Riseborough (Mandy) into the mix as the lead doesn't hurt either. I'm cautiously optimistic for this.