'The Girl In The Spider's Web' Early Buzz: A Mixed Response, But Claire Foy Is A Great Lisbeth Salander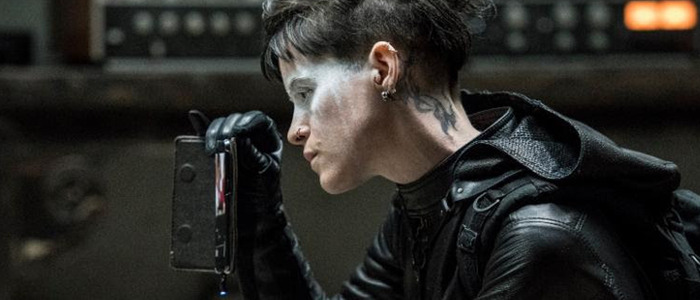 The girl with the dragon tattoo is back. Director Fede Alvarez, who captivated audiences with the suspenseful thriller Don't Breath a couple years ago, is behind The Girl in the Spider's Web, a sequel to David Fincher's 2011 Dragon Tattoo remake. This time, The Crown star Claire Foy plays hacker Lisbeth Salander, and she's earning much of the praise from critics in the first batch of reviews.
Find out what they're saying about the film in our early buzz round-up below.
The Girl in the Spider's Web Reviews
When I saw nearly 30 minutes of early footage from this movie, I noted that The Girl in the Spider's Web bore a striking resemblance to a James Bond movie. Apparently that holds through in the final version, because CinemaBlend's Sean O'Connell noticed the same thing:
Really dig Fede Alvarez's @SpidersWebMovie. Streamlined, well paced, and more accessible than previous films. Basically acts as a wall-to-wall action thriller with brutal fights and a chilling villain. Claire Foy COMPLETELY won me over. It's Lisbeth as Bond, but it works! pic.twitter.com/IhFtCpZAyK

— Sean O'Connell (@Sean_OConnell) October 24, 2018
There are only three full reviews online at the time of this writing, so let's go through them one by one.
First up, Kate Erbland at Indiewire singles out Foy's performance as the best aspect of the movie:
It's Foy, however, that drives the entire film. The actress has already turned in one revelatory film performance this year, thanks to Damien Chazelle's "First Man," but her turn as Lisbeth is further proof that the full spectrum of her talents have yet to be tapped. Her Lisbeth is more human than she has been in any previous incarnation, though Foy doesn't add emotion to the mix at the cost of dialing down her character's more opaque attributes. Lisbeth is never going to be cuddly or sunny, but that doesn't mean she has to be robotic or impossible to read. That's something that Foy and Alvarez clearly understand, and the result is a heroine not only worth cheering for, but one worth loving and even understanding.
For once, it's Lisbeth who traps the audience in her own web.
But unfortunately, she also says the story is "laden with undercooked revelations" and "loses much of its momentum" during a saggy middle section.
Deborah Young at The Hollywood Reporter also seemed to appreciate Foy's interpretation of the character – to a point:
Perfunctory in its psychological realism and flagrantly lacking any other kind, the screenplay by Alvarez, Jay Basu and Steven Knight is certainly not the most satisfying version of Lisbeth. But it is edgy and action-packed and Alvarez' direction keeps the tension high through a slew of ever-more-improbable threats to Lisbeth and her allies. In the end, her character is so invincible she feels unreal as a human personality. For one thing, she has lost the traumatic background of abuse that made her credible as an angry feminist revenger in The Girl with the Dragon Tattoo. It's also perplexing to discover she has a sister (Sylvia Hoeks) whom she left behind when she escaped from their father, a Russian crime lord.
Jay Weissberg at Variety is the harshest of the three, saying that while Alvarez "delivers some big bang thrills," "this entry feels like a betrayal" to the Lisbeth Salander fans out there because it "reduc[es] Salander to a quirky Batgirl-like figure, soft-pedaling her feminism, practically eliminating her queerness, and tossing in an American so the U.S. can save the world." And that's not all:
Alvarez soups it all up with action sequences that occasionally give a rise, accompanied by a nearly omnipresent music soundtrack as predictable as it is unnecessary. In keeping with a particular vision of Scandi noir, Sweden is seen as a country of black and gray — even Fincher leavened it with sharp blues, playing on contrasts of light and dark that's totally absent here. Presumably this is the way the remaining films of the franchise will play out, with Salander just another superhero with a stuck-on psychological profile rather than a three-dimensional young woman dealing with severe trauma, trying to seek justice in a world stacked against her. How sadly ironic that in the midst of the #MeToo moment, one of recent fiction's most iconic characters in the fight against sexual abuse gets turned into just another male fantasy action figure.
I came away from the early footage interested to see this new take on the character, but it sounds like it's sort of a mixed bag. We'll be able to find out for ourselves when The Girl in the Spider's Web hits theaters on November 9, 2018.