'Nightwing' Movie Update: Director Chris McKay Says The Film Could Still Happen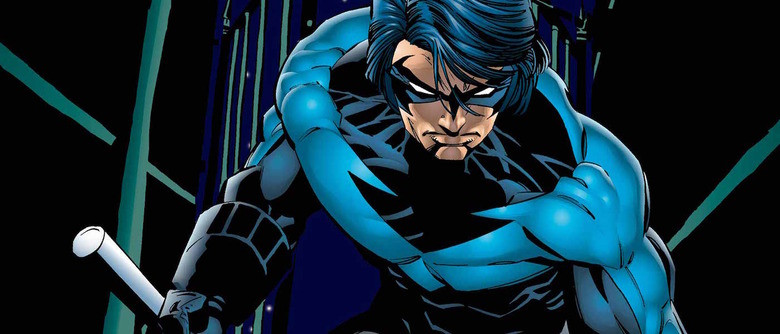 It's been almost two years since Warner Bros. and DC announced a solo film about Nightwing, aka Dick Grayson, and director Chris McKay has been relatively quiet about it as the script approaches completion. Things have been so quiet, in fact, that some fans have been wondering if the project is still happening at all. But according to McKay, the Nightwing film is still a possibility. Read his latest quote below.
Is this movie ever going to happen? It's a fair question, especially given the volatility of the so-called DC Extended Universe in recent years. After all, this is coming from the same company that made a splashy announcement about how we'd be seeing movies based on Green Lantern, The Flash, and Cyborg; with the benefit of hindsight, they're likely regretting at least one of those promises.
But what's the latest Nightwing movie update? Well, Chris McKay, who recently directed The LEGO Batman Movie, took to Twitter last night (via BleedingCool) to offer a bit of optimism about the future of the project:
No. You're going to have to wait tho. Keep hope alive. To paraphrase Dick Grayson: Nightwing lives. Always.

— Chris McKay (@buddboetticher) October 24, 2018
Nightwing, of course, is Dick Grayson, the former circus performer whose parents were murdered when he was a child. Grayson quickly became the first Robin, Batman's longtime sidekick, and the leader of the Teen Titans. (Brenton Thwaites is currently playing him in the live-action Titans series on DC's streaming service, DC Universe). But as the character aged out of the Robin mantle, he moved away from Gotham City to the nearby town of Blüdhaven, out from under Batman's wing, and took on the new superhero persona of Nightwing. In the comics, Nightwing has occasionally stepped in to take over the Batman role when Bruce Wayne has been injured or otherwise occupied, but considering all of the rumors about Ben Affleck's tenure as Batman coming to an end, it doesn't seem likely that any of those types of stories will play out on the big screen any time soon – at least not with this version of Batman. Maybe it'll be a part of DC's new origins banner of films that aren't set in the established movie continuity, alongside Todd Phillips' Joker.
The DC Extended Universe hasn't exactly gone according to plan since it launched with Man of Steel back in 2013. But this February, McKay revealed that the first draft of the Nightwing screenplay was nearly finished and that they were "taking [their] time with this movie," so perhaps it could still come to pass after all. Stranger Things actor Dacre Montgomery teased his association with the movie in the past, and more recently, McKay has denied that Zac Efron was up for the lead role. Who would you like to see play Nightwing if this film gets made?