Marvel Land Ride Details Revealed For Disney California Adventure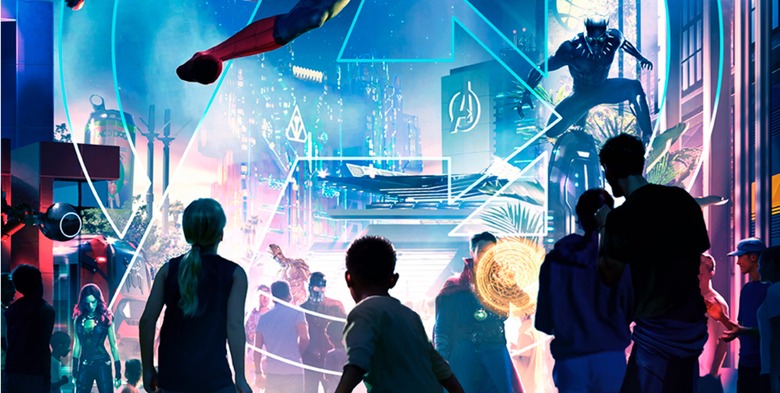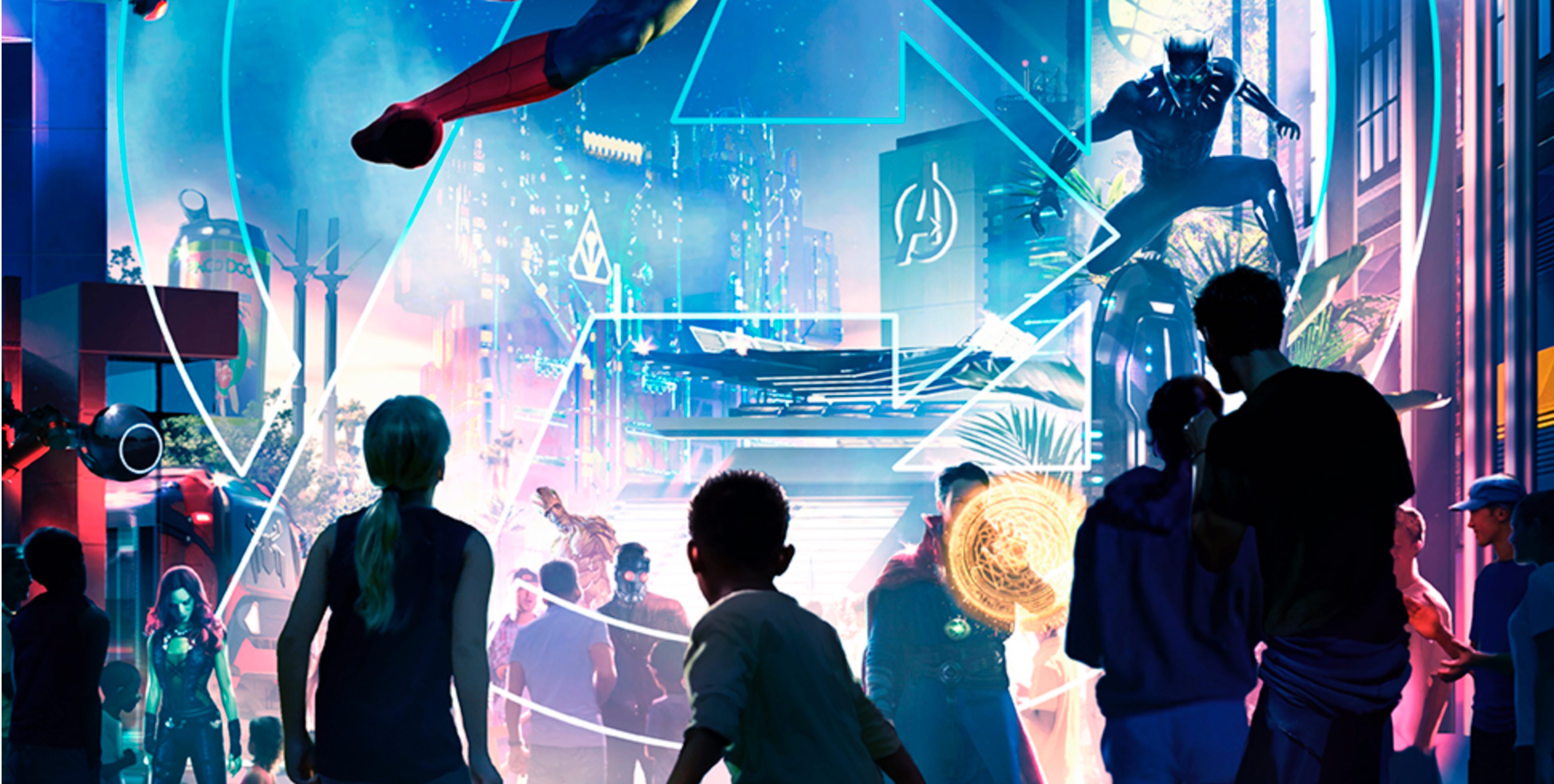 A new report reveals the rumored attraction and layout details for Marvel's upcoming theme park land in the Disney California Adventure park. The offerings include a Spider-Man interactive screen ride, a Doctor Strange stage show, an Avengers roller coaster dark ride and more. Below, we've gathered what you need to know about the Marvel Land rides.
WDW News Today has a new report about the offerings of Marvel's superhero-themed land coming to Disney California Adventure. The information is not confirmed by Disney, but the site has a good track record and claims the details come from "internal documents." Still, until we hear an official announcement, this should all be taken with a grain of salt. So let's dissect the report and see how it aligns with what we know, all while bearing in mind that this could all be subject to change and revision as we learn more.
Let's break it down.
Phase one of the land will launch sometime in 2020, with the second phase opening a year or two later. There is the possibility that a third phase is in the works to replace the Hollywood Land area, but it hasn't been approved. All of this makes sense if you know the park and its layout.
The land's central hub will have a large Avengers symbol in the ground, presented as the team's California Campus.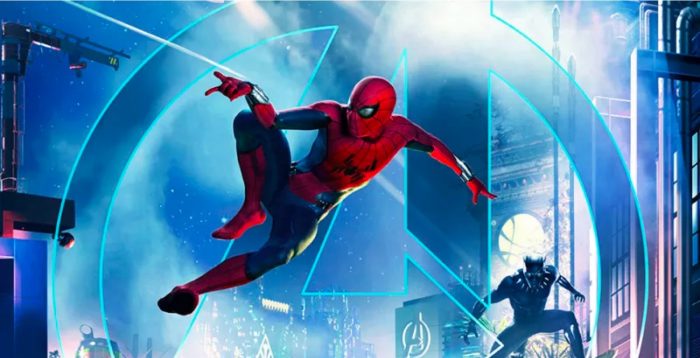 Spider-Man Interactive Screen Ride
The old It's Tough To Be A Bug theater building will be repurposed for a new Spider-Man attraction, but not the swinging roller coaster ride that was rumored. This attraction is screen-based (likely 3D) like Toy Story Midway Mania, with guests employing web-shooters to catch criminals in New York City.
This is disappointing, but it makes sense that the land will have a more family-friendly attraction, especially since it's replacing all of A Bug's Land's kid-friendly offerings. Honestly, it's surprising that they didn't just decide to repurpose the Ant-Man and the Wasp: Nano Battle attraction being built in Hong Kong. I'm guessing it's a space issue, so we're getting an interactive screen ride instead of an Astro Blasters-style dark ride. It's also weird that Disney would now have two interactive screen game rides in one park, which makes me think this must look, ride and feel very different than Toy Story Midway Mania (which remains one of the most popular rides at the park).
According to the report, the entrance to the Spider-Man attraction will be rerouted to the opposite side of It's Tough To Be A Bug theater so that it can be accessed from the hub of this new land. I'm assuming the original entrance will now become the exit of the attraction. The Spider-Man queue will be attached to the former "tissue box" restrooms of A Bug's Land, which will remain in a remodeled capacity.
Doctor Strange Stage Show
Doctor Strange will be getting his own stage show experience, which is expected to be an adaptation of the Disney Cruise Line experience with the Sorcerer Supreme. You can the video above to see what we might be in for. It's kind of a Marvel version of the popular Jedi Training Academy experience that will soon be closing next door to California Adventure at Disneyland. I could see this being fun for the families and yeah, it's another option to replace all those kid attractions removed from the A Bug's Land space.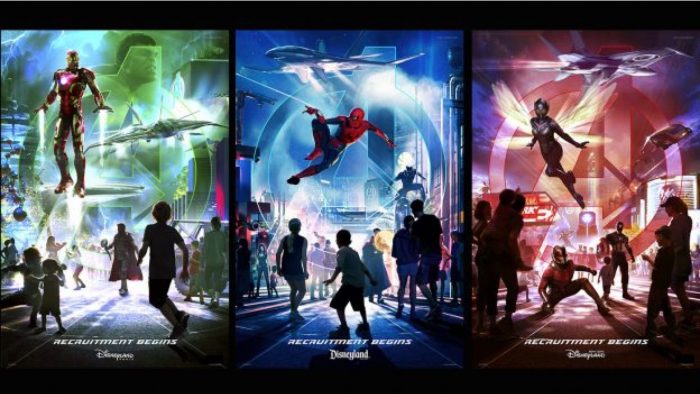 Avengers Roller Coaster
Phase 2 of Marvel Land will feature an Avengers E-Ticket attraction (Disney lingo for very big and very expensive), expected to be the dark ride/roller coaster hybrid that has been rumored for a couple of years now. Think of this as an intense Marvel version of something like Harry Potter and the Escape From Gringotts over at Universal Studios. This isn't really new information, but it does confirm what we all expected.
The report says that the Avengers Quinjet will be located in front of the attraction building, which is described as massive. The same roller coaster is expected to be built in Hong Kong Disneyland's Marvel area in the Avengers building. I wonder if the Quinjet will be used for the entrance of the attraction or a possible character meet and greet?
Other Details: Shops, Food and Trolleys
The dining options in the land will include a counter service restaurant (no theme mentioned) and a microbrewery with an Ant-Man theme, which explains the gigantic beverages in the concept art posters from last year.
A large shop will be located near the Avengers ride, with a smaller shop located across from the Spider-Man attraction.
It's also being reported that the first two phases of this development will take place on the other side of the Red Car Trolley attraction that runs from Guardians of the Galaxy: Mission Breakout (which will remain a key attraction as the land expands around it) down to Buena Vista Street. Some fans were concerned that the new land would shorten the trolley route, which doesn't seem to be the case.
From all the rumored details so far, I'm getting the vibe that this will be closer to a Pixar Pier or Universal's Marvel Superhero Island than an immersive themed experience like Pandora at Animal Kingdom or the upcoming Star Wars: Galaxy's Edge. I'm hoping that I'm wrong in getting that vibe – I'm excited for the Avengers roller coaster and I'm sure I'll have fun with the Spider-Man screen ride when it opens – but for now, it sounds very underwhelming.