'Robin Hood' Featurette Shows Off Taron Egerton's Impressive Archery Skills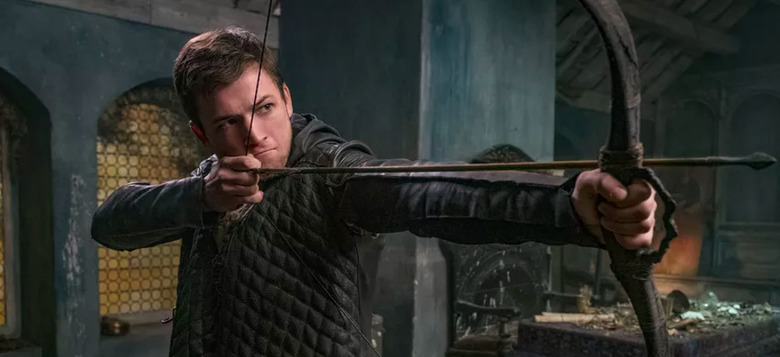 If the trailers for the new Robin Hood have done little to convince you to check out the film, this new featurette might change that. This behind-the-scenes video shows star Taron Egerton training like mad to become the best archer he can be. I had assumed the bulk of the archery in the new flick would be CGI-based, since that's the way things go now. But if this video is to be believed, a lot of the arrow-slinging is the real deal, and it's mighty impressive. Watch the Robin Hood featurette below.
Robin Hood Featurette 
Well, damn. Maybe Robin Hood is going to be worth seeing after all! This behind-the-scenes video is the first piece of marketing to make the new take on the legendary story seem exciting. Here we see star Taron Egerton learning archery skills, and then some. He's not just shooting arrows, he's leaping about, firing off two (or sometimes three) arrows at a time – and almost always hitting a moving target. Egerton makes it look very easy, but I'm sure if you or I were to try this, we'd fail miserable, and probably hit an innocent bystander in the leg with one of the arrows.
I remain skeptical about this film – how many more times does the Robin Hood story need to be told? But if this Robin Hood is really employing this type of practical action, it might just be worth checking out. Back when the film was was in production, producer Basil Iwanyk told Collider that some of the film's stuntwork was inspired by John Wick:
"The images of Robin Hood, the imagery we have, the production design, the stunt work that we're doing—a lot of it was inspired by the John Wick stunt work. The stuff we're doing with the bow and arrow, it's the same thing that Keanu does with the gun. The costumes, it just feels different than any other Robin Hood we had."
Seeing this featurette, I now see what he's getting at.
Robin Hood, starring Taron Egerton as Robin Hood, Ben Mendelsohn as the Sheriff of Nottingham, Jamie Foxx (Baby Driver, Collateral) as Little John, The Knick's Eve Hewson as Maid Marion, and Fifty Shades of Grey's Jamie Dornan as Will Scarlett, opens November 21, 2018.
Robin of Loxley (Taron Egerton) a war-hardened Crusader and his Moorish commander (Jamie Foxx) mount an audacious revolt against the corrupt English crown in a thrilling action-adventure packed with gritty battlefield exploits, mind-blowing fight choreography, and a timeless romance.