'Daredevil's Bullseye Almost Played Captain America, Jonah Hill Tried Out For Justin Timberlake's Role In 'The Social Network'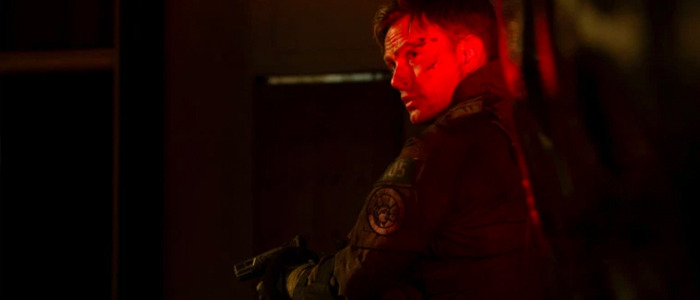 Hollywood is full of "what if" casting scenarios, stories of actors who came thisclose to landing life-changing leading roles that may have had huge ripple effects through the rest of the industry. You probably know many of them: Nicolas Cage as Aragorn in The Lord of the Rings, Dougray Scott as Wolverine in X-Men, etc.
At this point, someone could write an entire book about all of the actors who were nearly cast in the Marvel Cinematic Universe, and one of those chapters would have to be about Wilson Bethel, who eventually landed the MCU-adjacent role of Bullseye on Netflix's Daredevil. If things were slightly different, Bethel could have suited up as Captain America. Meanwhile, outside of the MCU, Jonah Hill was close to playing Sean Parker in The Social Network. Read more about both of these what-if stories below.
It's kinda wild to think about how the guy who plays Bullseye almost played Captain America. Bethel appeared as the highly-accurate assassin in Daredevil season 3, but in an interview with ComicBook, he talks about how he came achingly close to donning Cap's red, white, and blue uniform:
"I mean that was both, probably the single most exciting time of my life and also the single most devastating when it didn't happen. But, yeah, that was eight years ago now. They put me in the Cap suit and did everything. So, I screen tested it at Marvel with a number of other guys. They ended up releasing all the other guys... I was meeting with Joe Johnston to discuss the role and see story boards. So, it was this insane period where during that time I kind of thought that maybe I was going to actually get the role. I actually screen tested again a second time a month later on my birthday."
Bethel was battling people like John Krasinski, Mike Vogel (Cloverfield), Garret Hedlund, Chace Crawford (Gossip Girl), and more, with Chris Evans ultimately winning the part. It sounds like Bethel believed he almost had it, but then he got the big news:
"And then, I think it was like one or two days later that they made the announcement that Chris Evans got the part. So, to be perfectly honest, that was one of the hardest moments in my professional career. And it spun me out for a while to be honest with you. But I'm also a firm believer that things happen as they're supposed to, and obviously, Chris did an incredible job in that role. And my life, while it hasn't brought me to lead the Avengers, has been really rich and rewarding in other ways. So, I can't spend too much time lamenting it. And honestly, just the fact that things have kind of come full circle in a way, and I still get to be a dude in a suit, is pretty exciting."
That's brutal. Bullseye can be a fun character, but appearing in the third season of a superhero show is quite a long way from becoming an A-list movie star and a household name. You can see Bethel in action in Netflix's Daredevil season 3 right now.
Speaking of casting what-ifs, did you know Jonah Hill auditioned for the role of Napster founder Sean Parker in David Fincher's The Social Network? I'd never heard that before, but on a recent episode of The Bill Simmons Podcast (via IndieWire), Hill explained that it's true:
"Low-key, David Fincher, or high-key, David Fincher didn't want me in Social Network. It was between me and Justin Timberlake for that part. ... Obviously [Fincher's] the man, but he was not having me. The studio wanted me, I think, and then Justin Timberlake was amazing in it...The Social Network is the one that I was actually like, years later, was like, 'Fuck, like I'm so bummed.'"
Hill went on to earn two Oscar nominations for acting and just made his feature directorial debut with Mid90s, so he was clearly able to brush off that missed opportunity.