Spooky TV Promos: Freddy Krueger Scares 'The Goldbergs,' 'Chilling Adventures Of Sabrina' Starts Class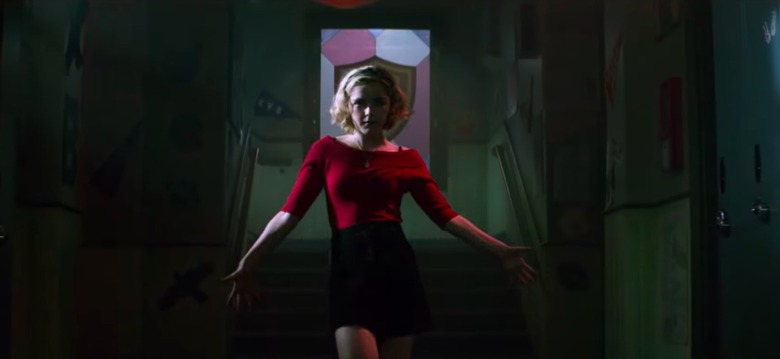 Halloween has come to TV. Two new promos for upcoming seasons of television shows have been released, teasing a truly spooky next few months. First, Netflix has released a new Chilling Adventures of Sabrina teaser, giving us a glimpse of the hallowed halls that our favorite teenage witch attends. Second, Nightmare on Elm Street comes to The Goldbergs, with Robert Englund reprising his role as the dreaded Freddy Krueger.
Chilling Adventures of Sabrina Teaser
School's in session and the witching hour is at hand in the newest Chilling Adventures of Sabrina teaser, which is more a dramatic slow-motion music video than a substantial TV trailer. But hey, Kiernan Shipka looks great in that cute red dress and skirt, smirking as she prances through the empty school hallways. It's a promo very much in the style of Riverdale's hyperstylized promos, which teased the teen soap's ridiculously overwrought tone. The teaser also introduces to the rest of the teen main cast of Chilling Adventures of Sabrina, all of whom have nailed their strutting in a school hall in style.
We do get a short scene in which Sabrina plans to meet someone for "spell casting" at the witching hour. How appropriately spooky.
Here is the synopsis for Chilling Adventures of Sabrina:
As her 16th birthday nears, Sabrina must choose between the witch world of her family and the human world of her friends; based on the "Archie" comic.
Chilling Adventures of Sabrina premieres on Netflix on October 26, 2018.
The Goldbergs Meets Nightmare on Elm Street
It's to be seen whether Robert Englund would reprise his role as the slasher genre's iconic sharp-handed villain in a new Nightmare on Elm Street, but at least you'll get to see him don the striped shirt and razors once again on...The Goldbergs?
The ABC sitcom has a cameo from none other than Freddie Krueger himself, who takes to haunting the titular '80s family and failing miserably, leading to all sorts of hijinks and hilarity. The short promo for the show's Halloween episode offers a quick homage to Johnny Depp's death scene in the 1984 film, as well as a shot of Freddy's wardrobe filled with red-and-green striped sweaters. I guess when you're a non-corporeal monster, you don't need many changes of clothes.
The Goldbergs' Halloween episode, titled "Mister Knifey-Hands" airs on ABC on October 24, 2018.