'Aliens' Producer Gale Anne Hurd Shares Her Hollywood Sexism War Stories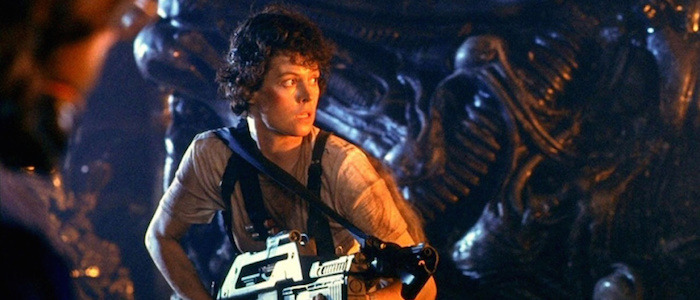 Gale Anne Hurd is one of most successful producers in Hollywood. She launched the Terminator franchise, gave Alien its first sequel, and currently oversees the Walking Dead universe on television. Like any woman in Hollywood, especially coming up in the '80s, Hurd has her own stories of sexism too. She shared some at a Screamfest Q&A before she was presented with a Lifetime Achievement Award.
Despite the success of The Terminator, her second studio film was full of battles.
"When Fox agreed that Jim would direct Aliens, I had to go in and interview," Hurd said. "The first question I was asked was, 'How can a little girl like you produce a big movie like this?' I've never been a really shy, retiring type. It was all I could do to just sit there, not walk out and say, 'Why don't you check my reference.'"
Hurd had references. She cut her teeth under Roger Corman, and worked with Film Finance for the completion bond on The Terminator.
"Then I said, 'In fact, even better, I'll have them call you,'" Hurd continued. "So when the head of Film Finances in Los Angeles [Lindsley Parsons] called, Roger [Corman] called and various other people called saying, 'Not only can she do this, you'd be lucky to have her,' I got the job, but I earned it."
Getting the job wasn't the end of Hurd's struggles though. Aliens filmed at the legendary Pinewood Studios in England, where crews were still surprised a woman was producing the movie.
"Then I went to England to make Aliens and honestly I felt like I was in The Wizard of Oz," Hurd said. "People kept saying, 'Who's really behind the curtain? Who's really producing this movie?' Once again, it was someone having my back."
Once Aliens was in production, the head of 20th Century Fox in the U.K. didn't even want to deal with people doubting Hurd.
"There was a gentleman who headed up Fox in the U.K., the late Tim Hampton," Hurd said. "Anyone who called him he'd say, 'No, Gale's producing the movie. No, you can't call me. I'm not producing the movie.' Honestly, people would argue with him. 'No, come on, Tim, you're producing the movie.' 'No, I'm not and if Gale's not going to hire you, you're not getting hired.'"
The response surprised Hurd, particularly in England, where she thought society was more progressive than in the States.
"I thought it was crazy because Margaret Thatcher was the prime minister of England at the time," Hurd said. "I thought they were a lot more advanced. They weren't, not in film."
After Aliens, Hurd had another reason to worry about her career. She had been married to Cameron, and when they divorced she feared the industry would take sides, and side with the director of the hit blockbuster films.
"Jim and I were getting divorced and it could have been a business where people basically said, 'Eh, we're going to close the door and you're going to be an outsider,' and I actually got an overall deal with Fox," Hurd said. "That's pretty remarkable. There were a lot of people who believed I'd earned my stripes."
The above is the worst things got for Hurd. As even more abusive behavior towards women in the industry has come to light in the last year, Hurd hopes everyone in the movie business will work together and support each other.
"I think we've seen a lot of really bad behavior," Hurd said. "I've never tolerated it on my sets. On my sets, I've never seen a MeToo moment, but it's really time to have each other's backs. Women, men, gender fluid, you name it, let's try to be a lot more inclusive in our business because we've not done a very good job with that in the past."