'Friday The 13th' Could Be Resurrected By LeBron James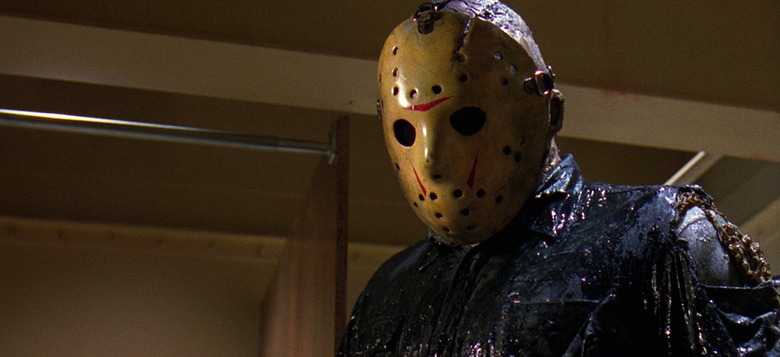 Here's something I bet you didn't see coming: LeBron James is in talks to produce a Friday the 13th reboot. After Halloween cleaned-up at the box office over the weekend, a slasher movie resurgence is no doubt right around the corner, but the fact that basketball great LeBron James is the one leading the charge to resurrect Jason Voorhees is a bit surprising, to say to the least.
King James, meet Jason Voorhees. Bloody Disgusting has the news that LeBron James, who is considered to be the G.O.A.T., as the kids say, is currently in talks with Vertigo Entertainment to produce a reboot of Friday the 13th through his production company Springhill Entertainment. James is no stranger to Hollywood – he had a scene-stealing turn playing himself in Trainwreck, and in 2015, Springhill Entertainment signed a deal with Warner Bros. to work on film and TV projects. He's also leading the charge on the long-awaited Space Jam sequel. On top of all that, James is a big horror movie fan – he's said so himself – and even released a line of Friday the 13th sneakers. Now that Halloween has proven audiences still have a blood-thirst for slashers, Hollywood is likely looking to get as many slasher movies off the ground.
The Friday the 13th rights have been tied up in litigation in which original writer Victor Miller claimed he showed own the rights to the franchise. A judge recently ruled in Miller's favor, which might explain why action on a reboot is suddenly moving forward after being stalled for so long. The last Friday the 13th movie still part of the original film franchise was 2003's Freddy vs. Jason. After that, Jason Voorhees received a reboot in the form of the 2009 Friday the 13th. The film was a hit, and some fans seemed to like it (I, however, am not a fan).
A sequel was planned, with a 2010 release date in sight. Then everything fell apart. Warner Bros. pulled the sequel off their release calendar, and since then, a new Friday film has gone through several stops and starts. At one point, David Bruckner was supposed to direct a new film eyeing a 2016 release date, but that too was pulled. Breck Eisner was later in talks, but nothing came of that either.  Now, it looks like Jason might live again. Sure, the reboot could hit a snag, but if anyone can make this happen, it's probably LeBron James.
In the original Friday the 13th, a group of clueless and horny camp consolers found themselves being picked off one by one by a mysterious killer. The group came to believe the killer was Jason Voorhees, a boy who drowned at the camp years ago. However, the real murderer was revealed to be Jason's mother, Pamela Voorhees. In subsequent sequels, Jason himself rose from his watery grave and began dispatching anyone who got in his way. His bloody path took him to New York, outer space, and beyond.
No specific details regarding the LeBron James produced Friday the 13th are available yet, and the film could go one of two ways. It could be a complete reboot, starting from scratch again. Or it could follow the Halloween path and serve as both a reboot and a sequel, bringing the old Jason Voorhees fully into the 21st century. Hopefully we'll know more soon.