'Homecoming' Trailer: Julia Roberts Helps Soldiers Transition Back To Civilian Life...or Does She?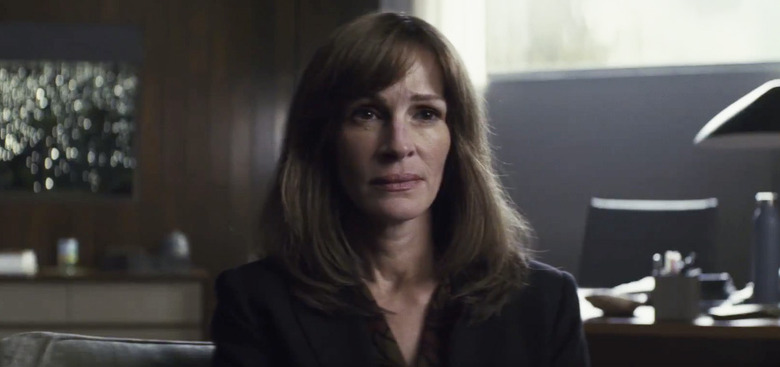 The age of peak TV continues with some of Hollywood's biggest names venturing into the world of streaming. This time it's Julia Roberts starring in a new series at Amazon, from Mr. Robot creator Sam Esmail.
Homecoming follows Heidi Bergman (Julia Roberts) as she recalls her former job at a facility that helped soldiers transition back into everyday civilian life. However, when she is asked to recount why she left the Homecoming facility by a Department of Defense auditor (Shea Whigham), she begins to realize there was more to her old job than she's been letting herself remember. That's when things get a little unnerving in the new Homecoming trailer.
Watch the Homecoming Trailer
While the trailer obviously suggests that there's more than meets the eye in Homecoming, it's clearly being kept under wraps. Obviously there are psychological elements at play here, and presumably these soldiers are being used for something they're not aware of. Perhaps that's what Julia Roberts' character discovered, and she's compartmentalized what likely became a traumatic part of her life before leaving the job.
The mere presence of Julia Roberts in this show makes this an enticing new offering on Amazon. What kind of compelling story convinced Roberts to make the jump into streaming? Could this be Amazon's next big hit following Jack Ryan earlier this year?
Joining Julia Roberts in Homecoming are Stephan James, Bobby Cannavale, Jeremy Allen White, Alex Karpovsky, Dermot Mulroney and more. The entire first season of the series created by Eli Horowitz and Micah Bloomberg is directed Sam Esmail.
Heidi Bergman (Roberts) is a caseworker at the Homecoming Transitional Support Center, a Geist Group facility helping soldiers transition back to civilian life. Walter Cruz (Stephan James) is one of these soldiers, eager to begin the next phase of his life. Overseeing Heidi and the facility is Colin Belfast (Bobby Cannavale), an ambitious company man whose manic demands point to questionable motives.
Four years later, Heidi has started a new life, living with her mother (Sissy Spacek) and working as a small-town waitress, when a Department of Defense auditor (Shea Whigham) comes to her with questions about why she left the Homecoming facility. Heidi begins to realize that there's a whole other story behind the story she's been telling herself.
Homecoming hits Amazon exclusively on November 2, 2018.