Photo: George Lucas Visits The Set Of 'The Mandalorian' On Jon Favreau's Birthday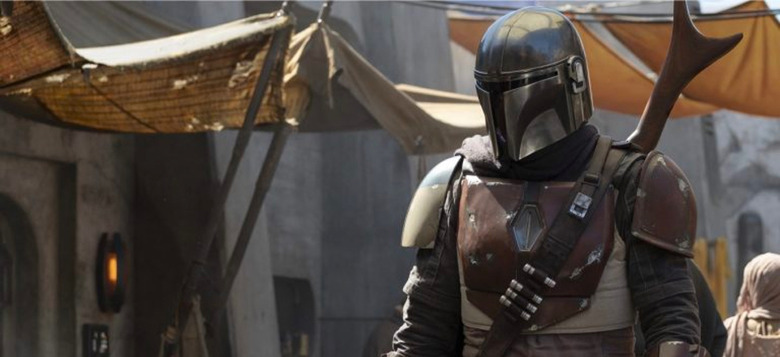 George Lucas decided to stop by The Mandalorian set and bring the show's producer and writer, Jon Favreau, some semi-expensive wine for his birthday, because he's a mensch. The result: a new Mandalorian set photo, which reveals a cantina where one can relax and drink George Lucas-approved wine. See the image below.
George Lucas may not have much to do with Star Wars anymore, but he's always willing to pop in and offer some words of encouragement. Lucas visited the set of The Mandalorian, the new Star Wars TV series being created for Disney's streaming service. It was Jon Favreau's birthday, and Lucas gifted him some wine. What kind of wine, you ask? It appears to be this – Skywalker Ranch Pinot Noir, because a vineyard is yet another thing George Lucas owns. According to that link, the wine runs about $69.99, which is sort of pricey, but I think George Lucas can do a bit better. It's the thought that counts, though.
In the background you can spot one of the Mandalorian sets, which looks like your typical Star Wars desert cantina. There are also some new Star Wars creatures in the background! Oh wait, no, my mistake. Those are just crew members in t-shirts. Still, if you're hungry for any sort of Mandalorian news, here you go. I will say that I'm glad Favreau is using practical sets, instead of using CGI for everything. Hopefully the rest of the show will follow suit.
UPDATE: Another photo has surfaced with episode director Dave Filoni on set too:

The Mandalorian "is set after the fall of the Empire and before the emergence of the First Order. We follow the travails of a lone gunfighter in the outer reaches of the galaxy far from the authority of the New Republic." The series will be written and executive produced by Favreau. Directors for the show include Dave Filoni (Star Wars: The Clone Wars, Star Wars Rebels), Deborah Chow (Jessica Jones), Rick Famuyiwa (Dope), Bryce Dallas Howard (Solemates), and Taika Waititi (Thor: Ragnarok).