'Eve' Cast Adds Geena Davis And Joan Chen To The Female Action Hero Roster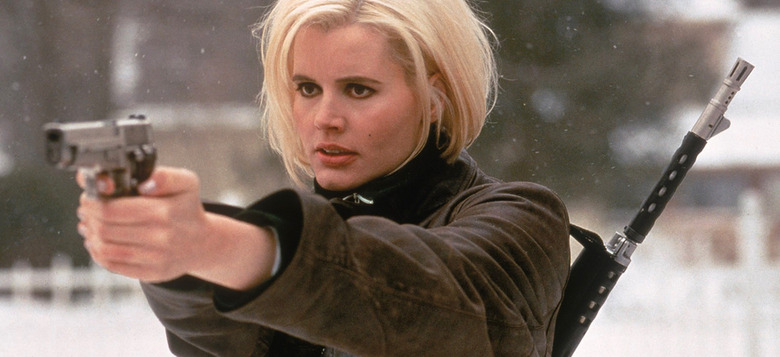 Eve, an action movie starring Jessica Chastain, has just added two great cast members: Geena Davis and Joan Chen. The film follows an assassin being hunted by her former employers while struggling to tell her family about her deadly job. Davis is likely playing Chastain's mother, while Chen is playing a gangster. All of this sounds amazing, and I'd like to see this movie immediately.THR says that Geena Davis and Joan Chen have both joined the Eve cast alongside Jessica Chastain. The rest of the cast includes Colin Farrell, Common and John Malkovich. Characters details are still under-wraps, but THR says "that Davis may be playing Chastain's mother. Chen may be playing a gangster who runs an underground poker game."
In Eve, Chastain plays "a cold-blooded assassin who is being hunted by her former employers while also trying to tell her family the truth about the nature of her job." This plot actually sounds somewhat similar to a film Geena Davis starred in in 1996 – The Long Kiss Goodnight, in which Davis played a family woman with amnesia who discovers she used to be an assassin.
While this plot isn't the most original, I'm sold. Chastain is one of the best actresses working right now – I'd go as far as saying I've never seen her give a bad performance. Adding Davis and Chen to the mix is a huge plus as well. Both Davis and Chen are actresses long overdue for big movie comebacks. Davis, who has appeared in such films as Beetlejuice, The Fly and more, has worked steadily over the years, but hasn't had a high-profile film role since the Stuart Little franchise. Chen, known for The Last Emperor, Twin Peaks, and more, last appeared in a film in 2015. It will be great to have both of them back on the big screen again.
All that said, Eve is not without controversy. The film was originally set to be directed by Matthew Newton, who has been the subject of multiple allegations of assault and domestic violence. Newton eventually left the project due to the backlash, and The Girl on the Train director Tate Taylor took his place. But here's the thing: the script is still Newton's. So even though he's not directing the film, he's nonetheless playing a big part in its construction. And that might not sit well with some people.
Production on Eve is currently underway in Boston. In addition to starring in the film, Chastain will also serve as producer. No release date is set yet.