'Incredibles 2' Deleted Scene Almost Introduced Frozone's Wife, Here's Why It Didn't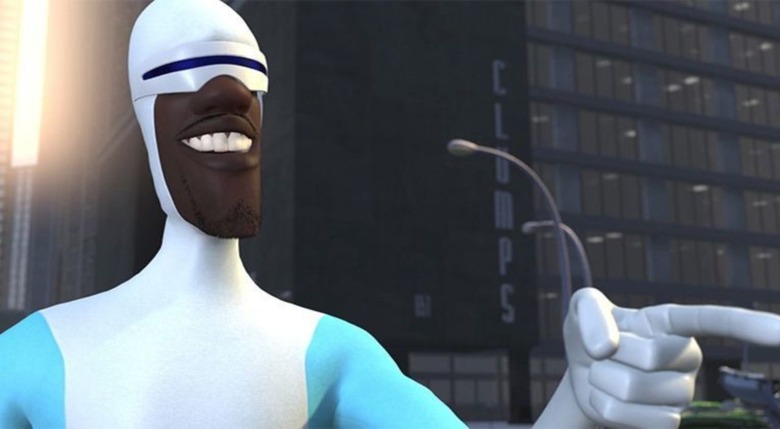 It's a scene that has gone down in the history books, kicked off by one simple line: Honey, where is my super suit? Thus one of the most iconic Pixar scenes was born, in which Frozone (Samuel L. Jackson) frantically scrambles for his super suit while his wife (Kimberly Adair Clark) belligerently refuses to tell him in 2004's The Incredibles.
So when the long-awaited sequel finally rolled around, why did director Brad Bird deprive us of the greatest good that we ever could have gotten? All is revealed in an Incredibles 2 deleted scene released ahead of the film's Blu-ray release.
We almost could have put a face to the name in Incredibles 2. Bird revealed in a featurette from the Incredibles 2 Blu-ray that they had originally drafted a scene in which we meet Honey for the first time, but ultimately decided to scrap it. io9 has the details in an exclusive scene.
Incredibles 2 Deleted Scene
According to Brad Bird, the scene would have taken place during the first big action sequence of the movie, in which the Incredibles family stop a runaway drill from wrecking half of the city. From outside of the action, we're introduced to Honey, who whips out Frozone's super suit (of course she knew where it was all along!).
"We thought that it might be fun if we introduced a person that you learn over the course of the scene, is Honey," Bird said in the featurette. "You see someone reacting to something outside, and the first thing that she does is she presses a remote and a wall turns around, and everyone will go, 'Oh this is Frozone's apartment, that must be Honey!'"
But early on, the team realized that the scene A) slowed down the action and B) undercut the joke of the original scene. "Honey can be whoever you imagine her to be," Bird said. In April, he elaborated on this decision to keep her offscreen, saying:
"She's funnier as a voice. We actually went through all the trouble of designing a character and the design appears in the movie but not as Frozone's wife. We have used her design and she is a hero but there's not a lot of screen time though."
Incredibles 2 arrives on Digital in HD and 4K Ultra HD and on Movies Anywhere on October 23, and on Blu-ray 4K Ultra HD, Blu-ray, DVD, and On-Demand on November 6, 2018.
Holly Hunter and Craig T. Nelson return as the voices of Helen and Bob Parr, who still struggle to juggle their duties as parents and Supers. Sarah Vowell once again provides the voice of the teen-queen of sarcasm Violet, while Huck Milner joins the cast as the voice of 10-year-old Dash, and Samuel L. Jackson reprises his role as the voice of Lucius Best – aka Frozone. Incredibles 2 also features the voices of Brad Bird as fashion visionary Edna "E" Mode, Bob Odenkirk as savvy businessman and Super fan Winston Deavor, Catherine Keener as tech pro Evelyn Deavor, Jonathan Banks as Rick Dicker, Sophia Bush as up-and-coming hero Voyd, and Isabella Rossellini as an influential ambassador and advocate for Supers.