Disney's 'Jungle Cruise' Movie Shifts From Fall 2019 To Summer 2020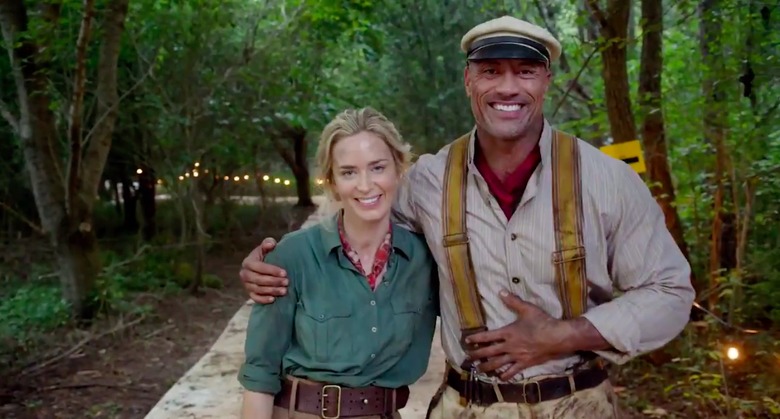 Jungle Cruise, Disney's upcoming film adaptation of one of their classic theme park rides, has been delayed. The Dwayne Johnson and Emily Blunt vehicle was first slated to hit theaters on October 11, 2019, but will now arrive on July 24, 2020.
Jungle Cruise Release Date
IT'S OFFICIAL – JULY 24th, 2020.
Ladies and gentlemen and children of all ages.
My partner in crime, Emily Blunt and I, lovingly invite you to join us for THE ADVENTURE OF A LIFETIME.
All aboard...😈@DisneyStudios JUNGLE CRUISE
🚢 🗺🌴❤️🥃 pic.twitter.com/DNTnqSb3QD

— Dwayne Johnson (@TheRock) October 19, 2018
Production on this film wrapped a little over one month ago, meaning that Disney will have almost two full years to edit and add visual effects during post-production. That seems like an awful long time for a movie that made such a big deal about having a practical set, but perhaps the motivations for this move were more about moving away from potential competition than anything having to do with this film itself.
Instead of going head to head with The Addams Family, Are You Afraid of the Dark, The Goldfinch, and Zombieland 2 (which all come out just one week after Ang Lee's Will Smith action film Gemini Man and Todd Phillips' Joker), Jungle Cruise will now compete with an untitled Sony Pictures Animation movie and Warner Bros.' Green Lantern Corps. – assuming that latter film actually gets made on time, which seems a little shaky since no director or actors are attached yet.
Based on the classic Disneyland ride (which features skippers making purposefully terrible jokes and puns), Jungle Cruise is a period piece set in the Amazon jungle in the early 1900s, and follows a boat captain (Johnson) tasked with taking a woman (Blunt) and her brother (Jack Whitehall) to a mythical tree with magical healing powers. From what we've seen so far, it seems as if Johnson and Blunt are going for a sort of Bogart/Hepburn African Queen kinda vibe here, so we'll have to see if they can pull that off under the guidance of director Jaume Collet-Serra (The Shallows, Non-Stop). Jungle Cruise also stars Paul Giamatti, Edgar Ramirez,and Jesse Plemons. Michael Green (Logan, Blade Runner 2049) wrote the screenplay.
This isn't the only release date change worth noting. As the Disney/Fox merger approaches, dates are being switched around to make sure none of the major Fox releases will conflict with Disney movies. One of the biggest shifts concerns Death on the Nile, the sequel to Kenneth Branagh's remake of Murder on the Orient Express. That Hercule Poirot mystery was originally supposed to compete with Star Wars: Episode IX on December 20, 2019, but will instead hit theaters on October 2, 2020.