'Cats' Movie Adds Judi Dench As Gender-Swapped Old Deuteronomy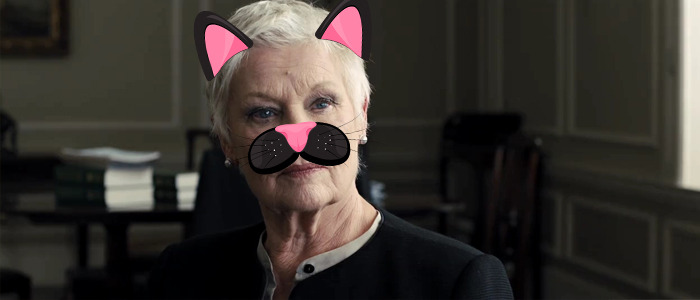 Oscar-winning actress Judi Dench is the latest performer to join the cast of Tom Hooper's Cats movie musical. She'll play a gender-swapped version of the Jellicle cats' leader, Old Deuteronomy. She also has some interesting history with this show that makes her casting here seem like a nice "full circle" moment in her impressive career. 
Deadline reports that Dench, the Oscar-winning actress from Shakespeare in Love and long-time veteran of the James Bond film franchise, will play Deuteronomy, the leader of the Jellicle cats. In the original stage musical, this character was male, a large cat who "has lived many lives" and "buried nine wives (and more, I am tempted to say – ninety-nine)." Deadline says that "wives" line will need to be changed in this version since Dench's version of Deuteronomy is female, but I could see them keeping it as-is.Cats debuted in 1981 and was composed by Andrew Lloyd Webber. It became one of the longest-running plays in Broadway history, winning multiple Tony Awards and earning nearly $350 million to date. It's based on T.S. Eliot's Old Possum's Book of Practical Cats, and if you've never seen the play, don't mind spoilers, and want to be baffled for a few minutes, read through the detailed synopsis on Wikipedia. Here's a more general spoiler-free synopsis:
This all-dance show's action is set on a gigantic rubbish dump which, after dark, becomes alive with cats of all types, shapes and sizes. Soon there are cats all over the place, including the auditorium, gathering for the Jellicle Ball during which one cat will be selected by the Jellicle Leader and allotted an extra precious life.
Dench's casting is particularly interesting because, as Deadline points out, she was initially cast in the role of Grizabella for the original 1981 stage version. But sadly, she snapped her Achilles' tendon before previews began and was ultimately replaced by Elaine Page.
Speaking of Cats, earlier this week we wrote about how Idris Elba was added to the cast in a mystery role. Deadline says he'll be playing Macavity, the villain of the story who kidnaps Old Deuteronomy in the stage musical.
Tom Hooper (Les Miserables, The Danish Girl) directs, while Dench, Elba, Taylor Swift, Ian McKellen, Jennifer Hudson, and James Corden round out the cast so far.
Cats will open opposite Star Wars: Episode IX, arriving in theaters on December 20, 2019.