'Bohemian Rhapsody' Featurette: How The Stars Became Queen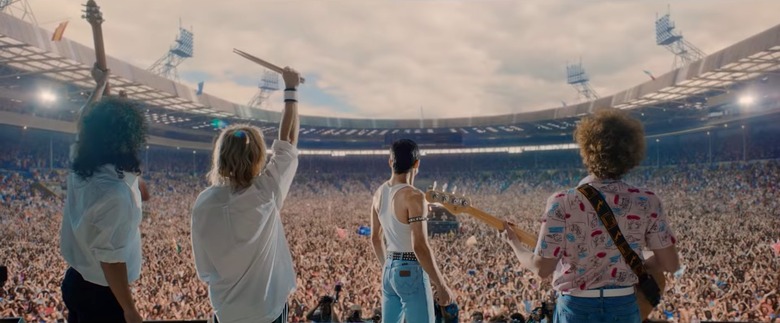 Becoming a rock icon is always a difficult job, but playing one that's still living? That's a Herculean task that each of the stars, with the exception of Rami Malek, had to take on in Bohemian Rhapsody. That's the equivalent of playing Mozart's concertos while Mozart watches you like a hawk. But Gwilym Lee, Joseph Mazzello, and Ben Hardy were up to the task, as shown in the latest Bohemian Rhapsody featurette released by 20th Century Fox.
Bohemian Rhapsody Featurette
Rami Malek has been getting all the attention in the lead-up to the release of Bohemian Rhapsody, but 20th Century Fox wants to remind you that there were three other talented members of Queen — all of whom are still alive. Brian May and Roger Taylor are both actively involved in the biopic of the rock band, acting as creative consultants. Early on, their heavy hand in production has sparked concerns over the film becoming a hagiography, but as the film evolved, it (hopefully) seems like that's not the case.
But the latest Bohemian Rhapsody featurette brings the other Queen members back into the spotlight, with Lee, Mazzello, and Hardy speaking about playing the rock band members and mastering their instruments. "We all worked really hard to master our instruments as best we could," Lee said in the featurette.
"We knew that we couldn't fake it," Mazzello added.
May and Taylor of course came on board to give their on-screen counterparts some tips. "I find myself looking at the edits, and I do kind of believe he's me," May said of Lee.
Bohemian Rhapsody is directed by Bryan Singer based on a script by Anthony McCarten. It also stars Lucy Boynton, Aidan Gillen, Tom Hollander, Allen Leech, and Mike Myers.
Here is the synopsis for Bohemian Rhapsody:
Bohemian Rhapsody is a foot-stomping celebration of Queen, their music and their extraordinary lead singer Freddie Mercury. Freddie defied stereotypes and shattered convention to become one of the most beloved entertainers on the planet. The film traces the meteoric rise of the band through their iconic songs and revolutionary sound. They reach unparalleled success, but in an unexpected turn Freddie, surrounded by darker influences, shuns Queen in pursuit of his solo career. Having suffered greatly without the collaboration of Queen, Freddie manages to reunite with his bandmates just in time for Live Aid. While bravely facing a recent AIDS diagnosis, Freddie leads the band in one of the greatest performances in the history of rock music. Queen cements a legacy that continues to inspire outsiders, dreamers and music lovers to this day.
Bohemian Rhapsody opens in theaters on November 2, 2018.