'What They Had' Director Elizabeth Chomko On Her Star-Studded Debut And Making A True Chicago Movie [Interview]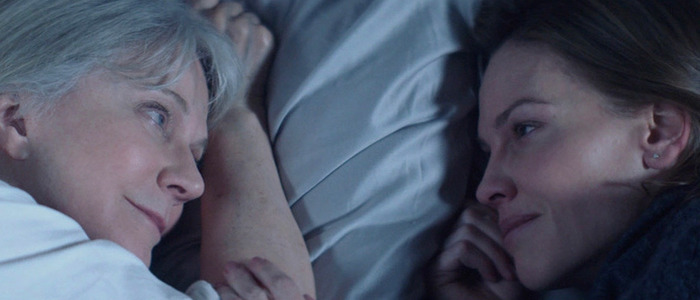 During the 2018 Toronto International Film Festival, I had the opportunity to interview What They Had writer-director Elizabeth Chomko.  This is the feature directorial debut for Chomko, who returned to her hometown of Chicago to film it with an all-star cast featuring Hilary Swank, Michael Shannon, Robert Forster, Blythe Danner, and Taissa Farmiga.
What They Had starts as Bridget (Swank) returns home to Chicago so that both she and her brother (Shannon) can take care of their mother, Ruth (Danner).  The problem is that their father Burt (Forster), isn't ready to move her into a care center devoted to patients suffering from dementia and Alzheimer's.
It's a film that I found myself connecting to on a personal level because my own grandmother suffered from memory loss in her later years after her heart stopped while undergoing surgery.  When she passed away while I was in high school, her memory was no longer what it used to be. I even touched on this in my interview with Chomko.
Bleecker Street opens this deeply moving and personal film in limited release today. It will expand in the weeks ahead.
Congrats on What They Had.
Thank you.
This came off as a very personal film.
Yes.  It is definitely personal—inspired by my grandparents, my family, and what we all went through coping with my grandmother's Alzheimer's diagnosis and loving her through all the subsequent memory loss and the ways in which it sort of—the caring for her—caregiving—the way in which it brought us to closer together and pulled us all apart. I think in the film everyone is reckoning with their memories and their own sense of time gone and past.  I think when you start to witness someone losing their memories it really prompts—at least for me—a sense that memories are precious and that we take them for granted a little bit. So I think for all the characters, it prompts just a sense of coming of age.  I think coming of age is something we do over the course of our life many times. I wanted to write something it felt like three generations kind of coming of age and in particular, the character that Hilary plays—a woman sort of reckoning with the decisions that she's made and why she's made them and does she want to continue down the path that's led her on or not.
It's set in Chicago.
It is—which is where I grew up until I was 13-14 and then we started moving to Belgium and then England and Northern California. But Chicago still feels like home and I miss it. I wanted to write this film and to make this movie in Chicago as sort of a way of coming home and making a love poem to that particular memory of mine.
Were there any places in Chicago you had wanted to shoot the film but can't quite fit in?
Yes, I wanted to get a lot more of Chicago in general—exteriors of Chicago like the lake. But we were challenged by the snow factor. The whole premise of the film is that there's the snow storm. Of course, the year prior, it was a terrible winter and it snowed like three times a week and it was frigid and freezing. But the year that we shot this movie, I got off the plane in February and it was 72 and it was just warm and spring sprung very quickly and overnight. So we did we have a little bit of a hard time shooting as the kind of scope and exteriors that I had wanted. But thankfully, I had gone to Chicago a year or two prior at Christmas time because you can't dress like the Merchandise Mart all red and green and the way they do the Sears Tower or whatever it's called now. You just can't dress Christmas in Chicago so we did a 2 or 3 day B-roll shoot where we just got as much of that wonderful footage as we possibly could. I used that and I think that really made the film have a bigger sense of scope. It really saved the day. So yeah, I'd love to go back to Chicago and shoot all those other wonderful places.
How did this cast come together?
Hilary came and read the script. At that point I was struggling a little bit with Bridget—that character the she plays. I think it was always a bit of an enigma to me that character and I think in part because she's an enigma to herself, especially at the beginning. Hilary read it and really responded to it in a kind of a personal way. She and I really just connected deeply. As soon as I met her, I was like this is this woman that I've been trying to conjure. This is this character. She really became quite a great muse for pushing that the script to the next draft place and then we just kind of decided to go and we raced to go and beat the weather and beat the oncoming spring. Everybody else—I always wanted Robert. I always wanted Blythe. Michael was such an amazing gift and he's so wonderfully funny movie. The cast is perfect. They are perfect. They are so well-cast and they're just extraordinary actors. I feel very fortunate.
In watching the film, I felt like I saw a totally different Michael Shannon than what I'm used to seeing. In The Shape of Water, his character was so sinister—or even Fahrenheit 451.
It's definitely Michael. He's very funny. I was dying at the monitor. He had me cracking up and that was so wonderful. I mean he's really stepped into that role and immediately, it was amazing. I just sat and watched and was overjoyed by what he brought to that character. It really—that role was so his. I'm very, very happy. I couldn't be happier truly with all the cast and all their performances.
Do you have any must-go places in Chicago?
I love going on the architectural boat or architectural tour. I just love the architecture in Chicago. I think it's the most underrated U.S. city. I think it's truly the most beautiful U.S. city. Just the buildings—the way the light glimmers off the river and onto the glass buildings both during the day and at night. My grandparents live in Oak Park, which is a suburb just west, and that's where Frank Lloyd Wright did a lot of his work. There's many homes there that were built and designed by him and also his home and studio is there. I always go there.  It's just such an inspiringly beautiful incredible feat of architecture and design to go visit his home and studio. Then in Chicago, I don't know—I left there at such a young age that I didn't really have any sense of night life. I didn't get to go out other than to those under-18 like juice clubs that we used to go to when I was a kid. But I didn't have any time really to do that when I was in Chicago for the shoot. We just didn't have a lot of time. But the Art Institute is so amazing and the Shedd Aquarium—these are places that I just don't think you should miss them.
I see so many films set in New York in LA.  There were two Chicago films playing Toronto between yours and Widows. It's not represented enough and like you were saying the architecture!
It's stunning. You don't understand until you visit it and you really see it—how stunningly designed each building is but also how beautiful they are as a full composition together even though they're different designers—how it's so integrated. It's really a masterful work of urban art—Chicago. My dear filmmaker friend, Olivia Newman, who made a movie called First Match, that is on Netflix. She is now in Chicago. She's directing an episode of Chicago Fire. She's from New York and I was telling her how beautiful Chicago was and she was like, "Yeah, yeah." People think us as tiny goofy Midwesterners as we don't really know. And she was like, "Oh my God, this city is so profoundly beautiful." The bridges over the over the river—It's just stunning. I agree that there should be more things. I'm dying to go back to shoot something else there. The crew is great. We had a wonderful committed crew. Such a short shoot and so little money and they were all like just such troopers about showing up and being committed. They were wonderful.
How challenging is to shoot during a Chicago winter?
Yeah. It's cold. It is pretty brutally cold. That was a blessing. I wanted it to be colder than it was but it was the blessing that it wasn't freezing. We did up quite a lot of outdoor days and it was hard. There's a scene in the movie where the American Legion does the funeral rites and the honor guard. These are the real guys from real Amboy Illinois that I brought out there from the American Legion—all these guys who are veterans and they are out there at these funerals and they are in their 80s 90s. Some of them on these frigid mornings in these blue windbreakers and so committed to honoring their fellow fallen soldiers and veterans. So we had them come. I wanted them to be the real guys and to do it the real way and the way they would do it. The gentleman who plays "Taps" has his horn and he was so cold that he couldn't press—it ruined the sound. He couldn't breathe out and so he had to have a car. He was also like 96—bless his heart. He had to have a car sitting there so he could stay warm and keep the instrument warm. It's just cold and whenever it's cold, everybody just wants to wrap. They just want to wrap up.  So you've got to be the bad guy and you're like, I know you're freezing but we didn't get it and you're going to be so mad at me and in a year and a half when the movie is mediocre because I mean because I knew we didn't get it and I didn't insist.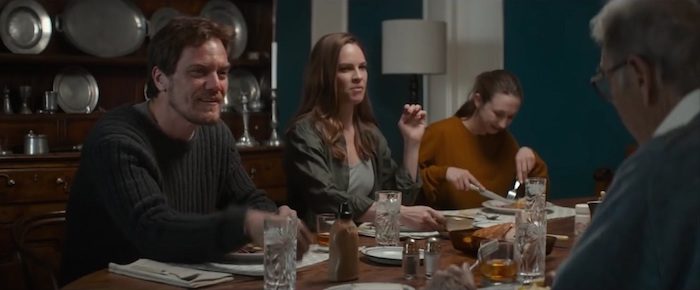 What was the reception during Sundance when the film premiered?
Oh, it was so wonderful to be at Sundance. It was such an honor to show the film there. I went to the Sundance Screenwriters Lab in 2015 and that was just such a wonderful boost of confidence and relationships with those wonderful mentors. The institute itself has been so supportive of this project. So I was so so happy to see to screen it there and show it to that audience of film lovers. It was truly an honor. It was beautifully warmly received and it's been a wonderful ride for me and for the whole cast and the crew. I'm just happy it's having this life.
What else are you working on?
I'm writing something that's been announced already an adaptation of a memoir for Matt Reeves' company. There are a few other things that I'm sort of in the works on that I'm super excited about that are not quite ready to be announced but hopefully soon and they're great. I'm dying to work with all of these cast members again.
Did I read correctly that this was your first feature?
Yes.
Was it challenging in that regard?
Oh, totally overwhelmingly challenging. Every second. Making a movie is like going to war or something. Maybe not. When you're making movies, it's like pushing a boulder up a really, really rocky steep hill.  I think any movie. It's a miracle that these scenes like requires many miracles any movie but I think when it's your first time all of that is infinitely more difficult and challenging and scary. Especially to be working with this caliber of actor and crew. My DP, Roberto Schaefer—inevitably, my editor Tom McArdle—inevitably, it's so tempting to sort of allow that them to dictate how something should be. And thankfully, they were all incredibly supportive of my vision. And it was—they were all so willing to hear that vision and try to execute it and teach me what they were doing and share with me the kind of things that we could do to make those things. Roberto and I were just so in tune. My DP, Roberto Schaefer, were just so in tune about the visuals of the film and he was so able to translate what I saw in my head and do it with the light and the lenses and all of that was tremendously helpful. But yeah, it's hard. It's not easy to be a first-timer but everybody really rallied and supported me in a way that was quite beautiful.
I would say how has the reception been in Toronto but the premiere is tomorrow night.
Yes, I know. I don't know yet. We'll see. Fingers crossed. It's okay. It's good. I'm very excited to be here showing it especially. I've never been to this festival before today. I'm told by everyone that it's their favorite festival and that it's a lot of wonderful movie lovers.
Yeah.
That's amazing to be able to show something so personal—to share that with strangers. It's scary but it's profoundly a moving exchange for me so I'm delighted to be here.
With my own grandmother, she wasn't officially diagnosed with dementia or Alzheimer's but her heart stopped when she had back surgery in the early 90s and her memory was just never the same. I did find myself connecting on that level.
I'm so sorry. It's really something, isn't it?
Yeah.
Memory is a special thing.
It's like whenever I have the chance to take photos, I will take them.
Yeah, exactly. That was what was so amazing about being able to make this. It's like being able to make a memory of myself that I can't lose. I feel very fortunate.