'Creed II' Featurette Focuses On The Franchise's Newest Director: "He Just Wanted To Go The Distance"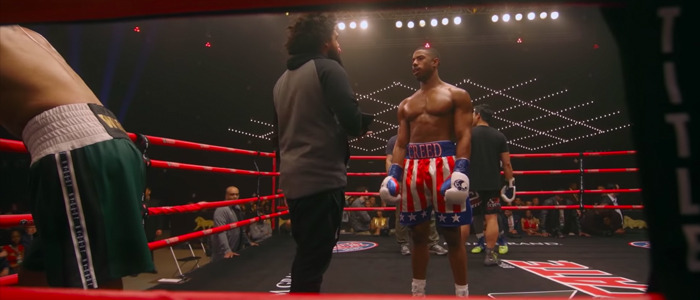 The Rocky movies have always been about legacy. Sylvester Stallone's underdog boxer didn't think he was going to win in his first bout with Apollo Creed back in the original movie – he just wanted to "go the distance" to prove he could hang in there with the best of 'em. 2015's Creed was about legacy too, but in a different way: legacy was a burden in that film, a shadow from which Michael B. Jordan's Adonis needed to step out to establish himself as a boxer in his own right.
Surprise, surprise: the theme of legacy returns again in Creed II, with Adonis not only facing off against the son of Ivan Drago (Dolph Lundgren), but doing so as a new parent. Plus, in a more meta sense, new director Steven Caple Jr. has the franchise's legacy to contend with as he tries to fill the shoes of previous director Ryan Coogler. Watch a new Creed II featurette below.
Creed II Featurette
I was disappointed to hear that Coogler wouldn't be coming back to direct this sequel, but after seeing the footage and hearing the cast talk about working with their new director, it seems as if Caple is following the visual template Coogler established in the last one and playing within that framework. "Steven is very much his own voice, and wants to come in and tell his own story inside of this," co-star Tessa Thompson says.
Caple only has one feature to his name thus far, a little-seen 2016 movie called The Land, but it looks like he "went the distance" and made this movie his own. I don't know about you, but I'm starting to renew my excitement for Creed II as we get closer to its release.
Here's the movie's official synopsis:
Life has become a balancing act for Adonis Creed. Between personal obligations and training for his next big fight, he is up against the challenge of his life. Facing an opponent with ties to his family's past only intensifies his impending battle in the ring. Rocky Balboa is there by his side through it all and, together, Rocky and Adonis will confront their shared legacy, question what's worth fighting for, and discover that nothing's more important than family. Creed II is about going back to basics to rediscover what made you a champion in the first place, and remembering that, no matter where you go, you can't escape your history.
Creed II hits theaters on November 21, 2018.