'Daredevil' Season 3 Features Peter Halpin As Foggy Nelson's Brother, A New Edition To The Marvel Universe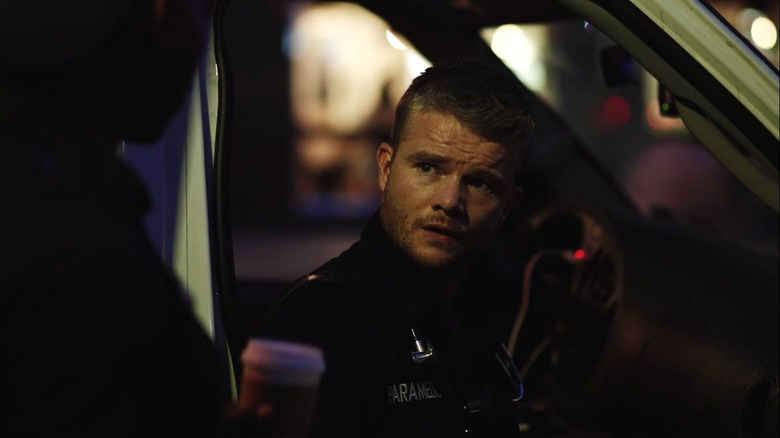 As Daredevil makes its way toward our Netflix screens today, the Marvel Netflix show announced a last bit of casting news to get us hyped for its third season. The Daredevil cast features Irish actor Peter Halpin as the older brother of Elden Henson's Foggy Nelson, a new addition to the mythology of the Marvel Comics superhero.
Foggy may have had a falling out with his best bro, Matt Murdock (Charlie Cox), but he is still his real brother's keeper come Daredevil season 3. Halpin makes his debut as Theo Nelson, the older, less career-driven sibling to Foggy who works at a local butcher shop.
Per Deadline:
The character of Theo Nelson is as genial as his older sibling but less career-driven than Matthew Murdock's law partner — the younger Nelson has worked his whole life with at his parents' local business, the Hell's Kitchen Butcher Shop in the gritty namesake New York neighborhood.
Alpin is an Irish actor best known for producing and starring in Narcan, the 2016 film about an Irish paramedic working in New York. But his resume aside, he certainly looks the part — he and Elden Henson have the exact same facial structure.
Theo Nelson is a show-only addition who has never before appeared in the pages of Daredevil's Marvel Comics adventures nor in the 2003 feature film Daredevil. It's one of the many creative liberties that the third season of Daredevil, which loosely adapts the famous Frank Miller comic book arc "Born Again," takes with the comic book lore.
In /Film writer Chris Evangelista's review of the third season, he called Daredevil season 3 "a mixed bag," adding "Daredevil season 3 attempts to start over in many ways. It even goes so far as to have Matt return to this black suit he wore for almost the entirety of season 1. While the reasoning behind this eventually pays off – Matt has to go up against Bullseye wearing the red Daredevil costume to impersonate and frame him, and having the characters wear different costumes helps the viewer keep track of them – it still has an air of regression to it. We've come so far, why go back now?"
But still, Chris says that the show is still "oddly watchable." And you can already watch it now, with all 13 episodes now available to stream on Netflix.