'Dirty John' Trailer Asks: Do You Really Know The One You Love?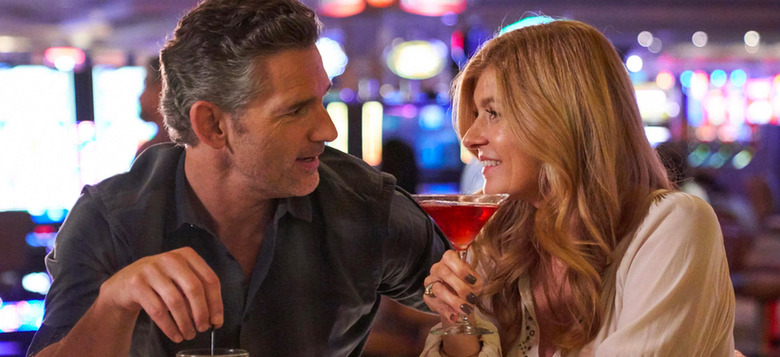 The popular podcast comes to life with Bravo's Dirty John. Based on a true story, the series follows Debra Newell (Connie Britton), who falls into a whirlwind romance with John Meehan (Eric Bana), a man she met online. But is John really who he says he is? Or is he hiding darker secrets? Watch the Dirty John trailer below.
Dirty John Trailer 
I suppose spoilers aren't really an issue when you're dealing with a true story that was already covered on a popular podcast, but this Dirty John trailer gives the game away fairly quickly. John Meehan is clearly up to no good, and being around him is dangerous. Here's the show's synopsis:
Debra Newell (Connie Britton) has a seemingly perfect life: she's successful, beautiful and lives in one of California's most desirable coastal cities, Newport Beach. The only thing missing is love. So when she finally meets charming and handsome doctor John Meehan (Eric Bana), she's quickly swept into a whirlwind romance, much to the dismay of her daughters Terra (Julia Garner) and Veronica (Juno Temple). Their fast-tracked relationship creates tension between Debra and the girls, leaving them no choice but to investigate the stranger who has swept their mother off her feet.  And with a fraught family history, the backstory of Debra and her mother Arlane (Jean Smart) provides insight into why she may have been so vulnerable to John in the first place. As Debra gets drawn deeper into his lies and sinister game of psychological manipulation, it results in horrific consequences for an entire family.
While this story was covered in the podcast, the Dirty John show will attempt to tell parts of the story that the podcast left out. "It's all about, 'Who is John?'"director Jeffrey Reiner said. "We go back in time [and include] things that were not necessarily in the podcast."
Writer Alexandra Cunningham added: "The framework is the same and a lot of the things that people love about the podcast are still there but within the frame, we go deeper."
I have yet to listen to the podcast, so all of this is new to me. The trailer above looks a little too brightly-lit for my tastes – theres' a distinct daytime TV vibe. But the story sounds compelling enough that I just might tune in. At the very least, it looks like Britton and Bana will both sink their teeth into their respective roles.
Dirty John debuts on Bravo November 25, 2018.