What Horror Movie Is Your State Obsessed With?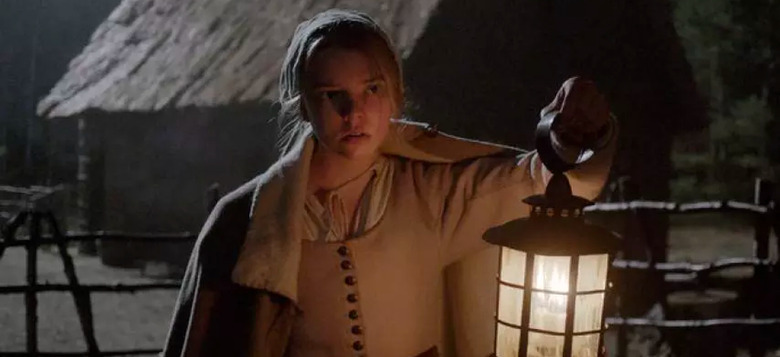 It's Halloween season, which means one thing: eating candy corn until you throw up. Once you're done with that, though, it's time to watch horror movies. But have you ever wondered what horror movies other people in your area are watching? And what about places all over the U.S.? What the heck are they watching in Michigan, for instance? Using data compiled from Rotten Tomatoes and other sources, we now know which horror movie each individual state is obsessed with.
Streaming Observer has done the dark lord's work and compiled a list of each state's favorite horror movie. Here's how they compiled the data:
Using data from Rotten Tomatoes, proprietary Amazon MTurk surveying, and other public sources, we compiled a list of the most popular horror movies of all time. Then, we partnered with Mindnet Analytics and used Google Trends data to determine which horror movie each state was most obsessed with relative to other states.
The results are interesting. For one thing, some movies –  The Silence of the Lambs, Shaun of the Dead, and The Exorcist, for example – rank as #1 in multiple states. And certain states tend to gravitate towards horror films set in their specific locales. The Texas Chainsaw Massacre is big in Texas, for instance.
It's an overall fun list, and it's also made up almost entirely of big, popular, studio-driven horror. There are a few exceptions, though. Tennessee, for instance, seems to love A24's indie horror film The Witch. Illinois is really into Ti West's slow-burn The House of the Devil. Wyoming can't get enough of The Babadook. And California loves the Spanish horror film The Orphanage.
Here's the full list. See what horror film your state loves, and judge them accordingly.
Alabama: Halloween
Alaska: Little Shop of Horrors
Arizona: What Ever Happened to Baby Jane
Arkansas: The Thing
California: The Orphanage
Colorado: The Shining
Connecticut: Pan's Labyrinth
Delaware: The Birds
District of Columbia: The Exorcist
Florida: This is the End
Georgia: Get Out
Hawaii: The Exorcist
Idaho: The Birds
Illinois: The House of the Devil
Indiana: Frankenstein
Iowa: Evil Dead 2
Kansas: Shaun of the Dead
Kentucky: Evil Dead 2
Louisiana: Get Out
Maine: The Host
Maryland: Blair Witch Project
Massachusetts: The Silence of the Lambs
Michigan: Near Dark
Minnesota: The Silence of the Lambs
Mississippi: Drag Me to Hell
Missouri: The Silence of the Lambs
Montana: Young Frankenstein
Nebraska: King Kong
Nevada: Shaun of the Dead
New Hampshire: Invasion of the Body Snatchers
New Jersey: The Silence of the Lambs
New Mexico: Bride of Frankenstein
New York: Psycho
North Carolina: Halloween
North Dakota: Aliens
Ohio: The Silence of the Lambs
Oklahoma: This is the End
Oregon: A Girl Walks Home Alone at Night
Pennsylvania: The Silence of the Lambs
Rhode Island: The Love Witch
South Carolina: The Loved Ones
South Dakota: Cabin in the Woods
Tennessee: The Witch
Texas: Texas Chainsaw Massacre
Utah: Zombieland
Vermont: The Exorcist
Virginia: Drag Me to Hell
Washington: Shaun of the Dead
West Virginia: A Nightmare on Elm Street
Wisconsin: Shaun of the Dead
Wyoming: The Babadook