'Bohemian Rhapsody' Early Buzz: Rami Malek Will Rock You, The Rest Of The Movie Not So Much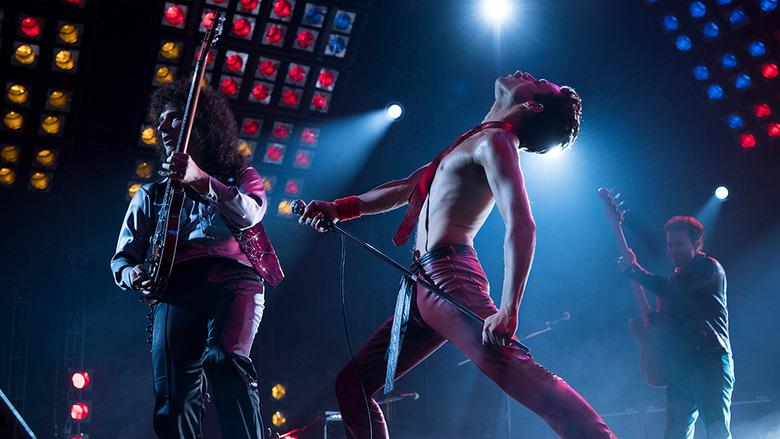 Reactions from early screenings of Bohemian Rhapsody have hit the interwebs, and even as the Bryan Singer film received mixed reviews, most critics have found something to love about this by-the-numbers biopic. Or rather, somebody to love. Namely, star Rami Malek, whose performance as the legendary Queen frontman Freddie Mercury has already begun to gather Oscar buzz.
Below, what critics have to say about the Bohemian Rhapsody early buzz.
Bohemian Rhapsody, which chronicles the rise of the rock band Queen from the group's formation to their renowned Live Aid performance in 1985, has been dinged by most critics for being a generic biopic with a few standout moments. Kyle Buchanan of The New York Times calls the movie a "glorified Wikipedia entry" while the LA Times' Kimber Myers criticizes the film for being "somehow too long while refusing to dwell on anything that's *actually* interesting." A few critics praised the film's Live Aid sequence — Fandango's Erick Davis called the scene "a rush and a half" — but the one element that is receiving universal acclaim is Malek.
Already Deadline's Pete Hammond wrote that Malek is "among top contenders for the best actor Oscar," and every critic had words of praise for his performance as the legendary singer, who tragically passed away from AIDS in 1991.
Rami Malek slayyyyyyed that. The film was a bit dodgy but there were some truly standout moments. Though again, they were mostly because of Malek #BohemianRhapsody

— Candice Frederick (@ReelTalker) October 18, 2018
#BohemianRhapsody is anchored by a performance by Rami Malek that almost vibrates off the screen, but it is somehow too long while refusing to dwell on anything that's *actually* interesting. pic.twitter.com/29yg6bpRte

— Kimber Myers (@kimbermyers) October 18, 2018
But Bohemian Rhapsody did work overall for some critics, who especially praised the recreation of the Live Aid performance, which is widely regarded as the rock band's greatest live performance.
#BohemianRhapsody is my favorite movie of the year so far. Emotionally exhausted and fulfilled. The power of music on display big time on so many levels – for Freddie Mercury, globally & so much in between. Rami Malek is the real deal. Was completely swept away by this one.

— Perri Nemiroff (@PNemiroff) October 12, 2018
#BohemianRhapsody is terrific and Rami Malek is absolutely astonishing as Freddie Mercury. If you are a Queen fan, you will adore every second of this film. Lots of energy, lots of passion. The Live Aid portion is a rush and a half. You will leave with your heart racing, for sure pic.twitter.com/csGnsFQV9a

— Erik Davis (@ErikDavis) October 16, 2018
Some folks got to see Bohemian Rhapsody as early as last week, when 20th Century Fox unveiled the film at guild screenings in New York and Los Angeles.
BOHEMIAN RHAPSODY: That Live Aid performance gave me chills. The rest of the movie...

— erickohn (@erickohn) October 8, 2018
Bohemian Rhapsody is a straight-on biopic with plenty of Queen music and a strong performance by Rami Malek. It will get mixed reviews. It might play with audiences.

— Anne Thompson (@akstanwyck) October 7, 2018
My biggest takeaway from BOHEMIAN RHAPSODY is how much the rest of Queen resents Freddie Mercury. But Rami Malek is outstanding. Also, the fact Mike Myers is in this movie is genius and insane.

— Mike Ryan (@mikeryan) October 8, 2018
Absolutely beyond blown away by #BohemianRhapsody! Rami Malek is phenomenal. Gorgeous story, amazing concert movie...I don't have enough words! pic.twitter.com/2lFZCX2O6d

— Jenna Busch (@JennaBusch) October 7, 2018
BOHEMIAN RHAPSODY is a glorified Wikipedia entry but Rami Malek plays Freddie Mercury (and wears his wonderful costumes) with incredible gusto

— Kyle Buchanan (@kylebuchanan) October 7, 2018
HOLY HELL!! #BohemianRhapsody is ABSOLUTELY FANTASTIC!! A rousing emotional cinematic champion that will rock you! #RamiMalek is magnificent! It's great FUN & it will ROCK YOU!! #AStarIsBorn, you've been served!! #Queen #FreddieMercury #Galileo pic.twitter.com/grykKkGjoE

— Scott Mantz (@MovieMantz) October 7, 2018
How do you turn an ok movie into a good one? Five words: Rami Malek as Freddie Mercury. #BohemianRhapsody

— Mara Reinstein (@MaraReinstein) October 8, 2018
Got to see #BohemianRhapsody last night. @ItsRamiMalek is absolutely amazing in it. The voice, the physicality... he's so so good!

— Adam Hann-Byrd (@BigManTate) October 7, 2018
Directed by Singer from a script by Anthony McCarten, Bohemian Rhapsody also stars Lucy Boynton, Gwilym Lee, Aidan Gillen, and Tom Hollander. The film opens in theaters on November 2, 2018.
Bohemian Rhapsody is a foot-stomping celebration of Queen, their music and their extraordinary lead singer Freddie Mercury. Freddie defied stereotypes and shattered convention to become one of the most beloved entertainers on the planet. The film traces the meteoric rise of the band through their iconic songs and revolutionary sound. They reach unparalleled success, but in an unexpected turn Freddie, surrounded by darker influences, shuns Queen in pursuit of his solo career. Having suffered greatly without the collaboration of Queen, Freddie manages to reunite with his bandmates just in time for Live Aid. While bravely facing a recent AIDS diagnosis, Freddie leads the band in one of the greatest performances in the history of rock music. Queen cements a legacy that continues to inspire outsiders, dreamers and music lovers to this day.